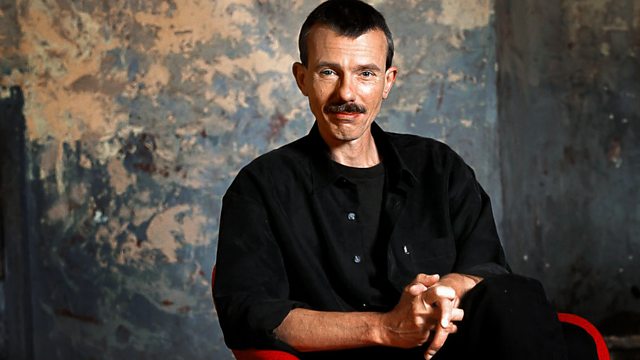 03/01/2013
Jonathan Swain presents performances by the Swedish Radio Symphony Orchestra in Kodaly, Rachmaninov and Dvorak's Symphony No.9 conducted by Daniel Harding.
12:31 AM
Kodaly, Zoltan [1882-1967]
Dances of Galanta for orchestra
Swedish Radio Symphony Orchestra, Juraj Valcuha (conductor)
12:49 AM
Rachmaninov, Sergey [1873-1943]
Concerto no. 2 in C minor Op.18 for piano and orchestra
Evgeni Bozhanov (piano), Swedish Radio Symphony Orchestra, Juraj Valcuha (conductor)
1:25 AM
Dvorak, Antonin [1841-1904]
Symphony no. 9 in E minor Op.95 (From the New World)
Swedish Radio Symphony Orchestra, Daniel Harding (conductor)
2:10 AM
Berwald, Franz [1796-1868]
String Quartet No. 2 in A minor (1849)
Bernt Lysell (violin), Per Sandklef (violin), Thomas Sundkvist (viola), Mats Rondin (cello)
2:31 AM
Bach, Johann Sebastian [1685-1750]
Magnificat in D major (BWV.243)
Antonella Balducci (soprano), Ulrike Clausen (alto), Frieder Lang (tenor), Fulvio Bettini (baritone), Chorus of Swiss-Italian Radio, Ensemble Vanitas Lugano, Diego Fasolis (conductor)
2:58 AM
Paganini, Nicolo [1782-1840]
Concerto for violin and orchestra No.1 in D major (Op.6)
Jaap van Zweden (violin), Netherlands Radio Symphony Orchestra, Kenneth Montgomery (conductor)
3:25 AM
Anon.
Dance suite from Vietorisz Codex
Kecskés Ensemble Budapest, András Kecskés (director), Clemencic Consort, René Clemencic (director)
3:30 AM
Grunfeld, Alfred [1852-1924]
Soirees de Vienne for piano, Op.56
Benjamin Grosvenor (piano)
3:36 AM
Goldmark, Karoly [1830-1915]
Ein Wintermarchen (Overture)
Hungarian Radio Orchestra, Ervin Lukács (conductor)
3:46 AM
Verdi, Giuseppe [1813-1901]
O Padre Nostro
Chamber Choir AVE, Andraz Hauptman (conductor)
3:53 AM
Vivaldi, Antonio [1678-1741]
Concerto in C major, RV.444 for recorder, strings & continuo
Il Giardino Armonico, Giovanni Antonini (recorder)
4:03 AM
Vitols, Jazeps [1863-1948]
Romance for violin and piano
Valdis Zarins (violin), Ieva Zarina (piano)
4:10 AM
Rossini, Gioachino [1792-1868]
Overture to L'Italiana in Algeri (Italian Girl in Algiers)
Capella Coloniensis, Gabriele Ferro (conductor)
4:18 AM
Sacchini, Antonio [1735-1786]
Trio sonata in G
Violetas Visinskas (flute), Algirdas Simenas (violin), Gediminas Derus (cello), Daumantas Slipkus (piano)
4:31 AM
Glinka, Mikhail Ivanovich [1804-1857]
Ivan Susanin: overture
Bratislava Slovak Radio Symphony Orchestra, Ondrej Lenárd (conductor)
4:40 AM
Schubert, Franz [1797-1828]
3 Songs - Liebesbotschaft, Heidenroslein & Litanei auf das Fest
Bryn Terfel (bass-baritone), Malcolm Martineau (piano)
4:50 AM
Abel, Carl Friedrich [1723-1787]
Sonata No.6 in G major for transverse flute and harpsichord
Karl Kaiser (transverse flute), Susanne Kaiser (harpsichord)
5:00 AM
Strauss, Richard [1864-1949]
Rosenkavalier - Grand Suite
Orchestre du Conservatoire de Musique du Québec, Franz-Paul Decker (conductor)
5:23 AM
Sibelius, Jean [1865-1957]
Rakastava (The Lover) (Op.14) arr. for soprano, baritone and chorus
Pirkko Törnqvist-Paakkanen (soprano), Jouni Kuorikoski (baritone), Finnish Radio Chamber Choir, Eric-Olof Söderström (conductor)
5:30 AM
Chopin, Fryderyk [1810-1849]
Bolero (Op.19) in A minor
Emil von Sauer (piano)
5:37 AM
Rimsky-Korsakov, Nikolay [1844-1908]
Capriccio Espagnol (Op.34)
Sofia Philharmonic Orchestra, Milen Natchev (conductor)
5:54 AM
Philips, Peter [c.1560-1628]
Pavan Dolorosa
Concordia, Mark Levy (conductor)
6:00 AM
Sanz, Gaspar [1640-1710]
Suite espanola for guitar
Tomaz Rajteric (guitar)
6:10 AM
Mozart, Wolfgang Amadeus [1756-1791]
Trio for piano and strings in C major (K.548)
Kungsbacka Trio.
Last on