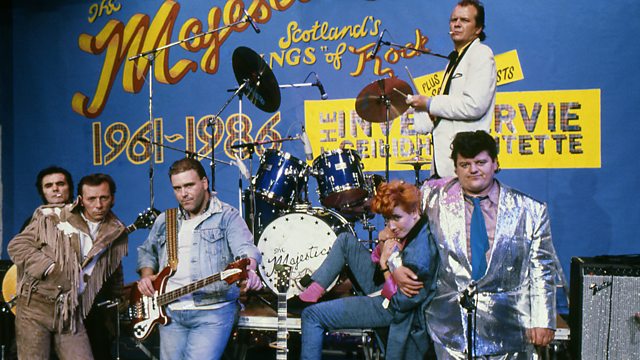 Tutti Frutti: 25 Years On
Twenty five years since The Majestics' disastrous silver jubilee tour climaxed in a blaze of fire and vodka, Janice Forsyth talks with the cast and crew of Tutti Frutti.
Writer Alan Bissett picks up where John Byrne left off, reimagining what became of the characters in the last 25 years. Did streetwise waitress Suzi Kettles and rotund anti hero Danny McGlone settle down by the Clyde? Is nippy-sweetie secretary Janis Toner now heading up Eddie Clockerty's business empire? Did ageing heart throb Vincent Driver, the 'iron man of Scottish rock', live to tell the tale?
John Byrne's six-part series was a huge hit in 1987, winning six Baftas including Best Actress for Emma Thompson's Suzi Kettles and Best Drama Series.
Despite popular and critical acclaim it ran for only one series and wasn't released on DVD until 2009.
In this special programme we'll hear from the original cast, plus John Byrne and series director Tony Smith, who discuss their memories of Tutti Frutti and the reasons behind its lasting appeal.