Muncaster Castle, Cumbria
Eric Robson hosts a special Christmas edition of GQT from Muncaster Castle, Cumbria. Chris Beardshaw, Bunny Guinness and Matthew Wilson join in the seasonal fun as your Gardeners' Question time panel.
Produced by Howard Shannon
A Somethin' Else Production for BBC Radio 4.
Q. How can I encourage my Pyracantha and Winter Jasmine plants to climb?
A. Lack of support for the plants will result in a lack of upward growth. Net around the Jasmine, and tie in other plants to the support. Alternatively, Sea Buckthorn might do well as it is very robust.
Q. Our new garden is bounded on both sides by fields. Is there anything we can do to create a barrier to the wild grasses and weeds (especially Buttercups), without losing the view?
A. Changing the ground habitat at the boundary with a low hedge (such as a mix of Sloe and Hawthorne) will discourage the wild plants from migrating across. Make this hedge several rows deep to create a thicker network of stems, and put a mowing strip inside it. It might be possible to add plants to your garden which references the landscape, such as the 'Hedgehog' variety of cultivated Buttercup.
Q. Can the panel recommend any plants that can withstand sea salt, sand, wind and that are not enjoyed by snails?
A. The Yellow Horned-Poppy (Glucium Flavum) or Californian Poppy (Eschscholzia Californica) would do well, as would the Crambe Cordifolia or Maritima, also known as Seakale. Hebe Topiaria is a good evergreen plant. You could also combat the snails with ferric phosphate.
Q. What's the best time of year to prune a Magnolia Grandiflora 'Exmouth'?
A. As with most evergreens, wait until it is in growth and the beginning of summer. Light pruning and tip pruning can be carried out a little earlier. You should take out no more than a quarter of total canopy in any one season, but 'little and often' is recommended.
Q. Is there any environmentally friendly way of getting rid of moss on driveways and pathways?
A. A flame gun would work on moss, as might salt. However, the chemicals available for combating moss are easier, although not as easy as letting the moss grow! Clinker could be added to paths and its pH would help get rid of the moss.
Q. Could the panel recommend small trees or shubs with all-year interest for a soggy, clay garden facing southwest.
A. Ornamental Crabapples, Viburnum Lantana (the Wayfaring Tree), Aesculus Buckeyes, Willows such as Chermisina, Britzensis and Salix Elaeagnus and blueberries are all recommended.
Q. In 1996 we had around 100 Rhododendrons planted in our garden. For the past few years, many have black, undeveloped buds on them. Why is this?
A. In bad-weather seasons, the plants' delicate petals can be scorched out leaving the bud dry and crumbling. Rhododendrons are also susceptible to a fungus that results in pinheads around the bud, but this is more moist. A good mulch around the plant will help.
Q. Our Leylandii hedge has stopped growing. How can we get it to grow faster?
A. There may be a problem with your soil, or they could be sitting in water. You could try planting Sea Buckthorn instead!
Last on
Are you being served...?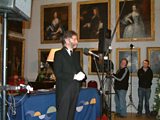 Craddock the butler welcomes guests to Muncaster Castle, surrounded by portraits of former Pennington ancestors.
Your Muncaster Castle panel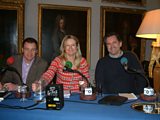 Chris Beardshaw, Bunny Guinness and Matthew Wilson in the spectacular surroundings on the Cumbrian castle.
On a cold Winter's morning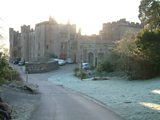 Muncaster Castle in the Lake District looks amazing on a frosty morning as its gardens catch the rising sun.
Seven things Prince Charles says you should do in the garden