Add music you love and enjoy it with
Timings (where shown) are from the start of the programme in hours and minutes
Performers: Concertgebouw Orchestra, Bernard Haitink (conductor)

PHILIPS 416 437 2

Joseph Haydn

Piano Trio in A Hob. XV No. 35

Performers: Beaux Arts Trio

PHILIPS 432 064 2

9.16: Sarah's Essential CD of the Week

Edvard Grieg

Jesus Kristus er opfaren (Jesus Christ Our Lord is Risen), 4 Psalms Op. 74 No. 3

Performers: Soloist: Bård Bratlie, The Norwegian Soloists' Choir, Grete Pedersen (conductor)

BIS SACD 1661

Performers: Cecile Licad (piano)

NAXOS 8559145

9.30:

Today's Brainteaser

Who am I?

Performers: The answer is 'Wenceslas'

9.31: Artists of the Week - Trevor Pinnock & The English Concert

Johann Friedrich Fasch

Concerto in C minor for bassoon, 2 oboes and strings L:c2

Performers: Alberto Grazzi (bassoon), Paul Goodwin & Lorraine Wood (oboes), The English Concert, Trevor Pinnock (harpsichord/director)

ARCHIV 449 210 2

Performers: Dresden Staatskapelle, Colin Davis (conductor)

RCA 56698

Performers: London Symphony Orchestra, Richard Hickox (conductor)

CHANDOS CHAN 8789

[anonymous]

Tempus Adest Florium (Spring Carol)

Performers: Female voices of Oxford Camerata, Jeremy Summerley (conductor)

NAXOS 8553578

Franz Schubert

Moment musical in A flat, D.780 No. 6

Performers: Maria João Pires (piano)

PHILIPS 456 928 2

Performers: Royal Northern College of Music Wind Orchestra, Timothy Reynish (conductor)

CHANDOS CHAN 10638

10.10: Artists of the Week - Trevor Pinnock & The English Concert

Performers: Arleen Auger (soprano), Anne Sofie von Otter (alto), The English Concert Choir, The English Concert, Trevor Pinnock (harpsichord/director)

ARCHIV 423 631 2

10.30: Alistair McGowan's Choices

Performers: Roland Pöntinen (piano)

BIS CD 317

Maurice Ravel

Maurice Ravel - Pavane pour une infante défunte

Performers: Pascal Roge (piano)

DECCA 440 836-2

Sullivan

"When you're lying awake…" (Nightmare song from Iolanthe)

Performers: Steven Page (baritone), Czech Symphony Orchestra, John Landor (conductor)

IMP CLASSICS 1067

Performers: John Kitchen (harpsichord)

DELPHIAN DCD 34112

Eller

Cantando espressivo (from Five Pieces)

Performers: Scottish National Orchestra, Neeme Jarvi (conductor)

CHANDOS CHAN 241-44

Sarah's Essential Choice

Performers: Montreal Symphony Orchestra, Charles Dutoit (conductor)

DECCA 444 322 2

Performers: Nash Ensemble

CRD 3344
Today's Brainteaser Answer

Who am I? Answer: Wenceslas the 1st, duke of Bohemia and subject of the well-loved Christmas carol, Good King Wencelas. He was assassinated in the year 935, and after his martyrdom he developed a reputation for heroic goodness, and was seen as the patron saint of the Czech state.
Read the Essential Classics blog
Essential Choices on BBC Playlister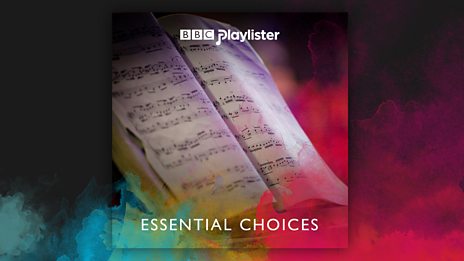 Explore the Essential Choices via BBC Playlister as chosen by Rob Cowan and Sarah Walker.