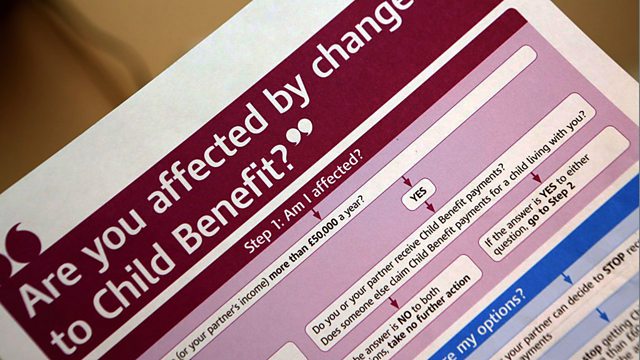 Child Benefit
Listen in pop-out player
The rules about who can claim child benefit are changing. Do you claim the allowance and could you get caught by the new tax charge? Call 03700 100 444 from 1pm on Wednesday or email moneybox@bbc.co.uk with your questions.
Around a million letters have been sent out by HM Revenue & Customs (HMRC) warning people that their entitlement to child benefit could be reduced or lost.
The High Income Child Benefit Charge starts on 7 January 2013, for those with an income above £50,000. If you are affected you will need to decide whether to keep receiving the benefit and pay the tax charge through self- assessment, or to stop claiming.
If you have a question about the new system or making a decision about your claim you can call or e-mail Wednesday's programme.
How can you find out if you are affected?
Which income do you need to declare and what happens if your finances increase or decrease?
Where do you stand if your personal circumstances change or your partner moves in or out?
What can you do to keep your benefit?
If you don't claim child benefit will your right to other benefits and your state pension be damaged?
Perhaps you need advice about paying the charge through a self-assessment form?
Whatever your question, Paul Lewis and guests will be ready to help. Paul will be joined by:
Lin Homer, Chief Executive and Permanent Secretary, HMRC
Anita Monteith, Technical Manager, Tax Faculty, ICAEW
Phil Agulnik Director of Entitledto, suppliers of online benefit calculators
You can email your question to moneybox@bbc.co.uk. Or the number to call is 03 700 100 444 - lines are open between 1pm and 3.30pm on Wednesday. Standard geographic charges apply. Calls from mobiles may be higher.
Last on