Add music you love and enjoy it with
Slade

Merry Xmas Everybody

(CD Single), EMI

Christmas Memories (Various Artists), Emporio, 1

20 Number 1's Of The 70's (Various), MFP

Now 1991 - The Millennium Series, Now

The Beatles: 1962-1967, Apple, 1

Mixed Emotions III (Various Artists), Polygram Tv

Imelda May

Big Bad Handsome Man

(CD Single), Universal Music Classics & Jazz, 1

Nat King Cole

The Little Boy That Santa Claus Forgot

That's Christmas (Various Artists), EMI

(CD Single), Parlophone, 1

The Jam

Going Underground

Fantastic 80's Disc 2 (Various Artis, Columbia

The Jackson 5

Santa Claus Is Comin' To Town

The Best Christmas Album In The World, Virgin, 17

Saint Etienne

I Was Born On Christmas Day

(CD Single), Heavenly, 17

Prince

Rock And Roll Love Affair

(CD Single), NPG Records

Fantastic 70's (Various Artists), Sony Tv/Columbia, 9

Mud

Lonely This Christmas

That's Christmas (Various Artists), EMI

Rod Stewart & Cee Lo Green

Merry Christmas Baby

Merry Christmas Baby, Verve

The Best Christmas Album In The World, Virgin

(CD Single), Universal, 1

(CD Single), Universal, 1

Queen

Bicycle Race

Jazz, Island, 4

JD McPherson

Twinkle (Little Christmas Lights)

(CD Single), Rounder Records
Pause for Thought

From Rev Rob Gillion, Rector of Holy Trinity Church and St Saviours.

I am in the middle of a flurry of carol services and concerts. The traditional carol service is the one every one loves the best. I was amused that outside our church on Saturday on Sloane Square were two brass bands fighting it out. Everyone loves a good sing song.

There is a fair bit to do still, so my wife Janine and I went to to the 24 hour supermarket near to midnight on Saturday. Instead of the usual musak they were playing carols. We sang our way round the store, and then we couldn't resist it as we danced down the aisle to 'It's beginning to look a lot like Christmas' There were a few strange looks, but other shoppers and staff joined in. It was such fun!

I have since learnt the word carol means to dance in a circle to a song of praise and joy. The power of song to transform, even shopping!

My favourite story is about the carol written in 1818 by an Austrian priest Joseph Muhr. He was told the day before Christmas that the church organ was broken and would not be repaired in time for Christmas Eve. He couldn't bear Christmas without music. So he wrote a carol that could be sung by the choir to guitar music. Later that night the people in the little Austrian church sang' Stille Nacht',-' Silent Night' for the first time.

One hundred years later the troops in the first world war on both sides sang that same carol together from the trenches - A moment of precious peace.

The angels too sang to welcome the birth of Jesus offering peace on earth and goodwill to all. Let's all take the opportunity to go a carolling this Christmas and make a song and dance of it!!
BBC Playlister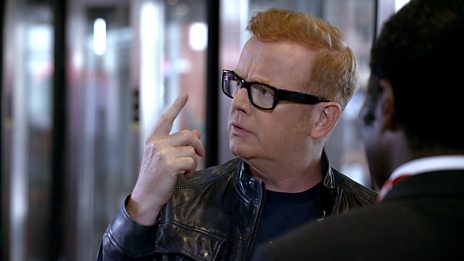 Chris has a song stuck in his head - but what is it? That's why he needs BBC Playlister!
500 WORDS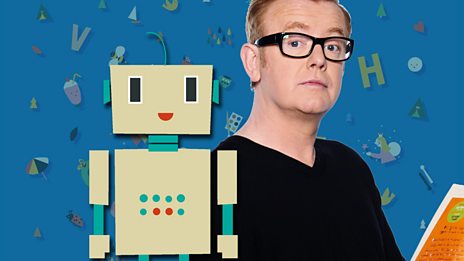 Featuring celebrity videos and top writing tips!
Podcast
Catch up with the latest Breakfast fun with Chris Evans. Hear the best stories and the biggest…