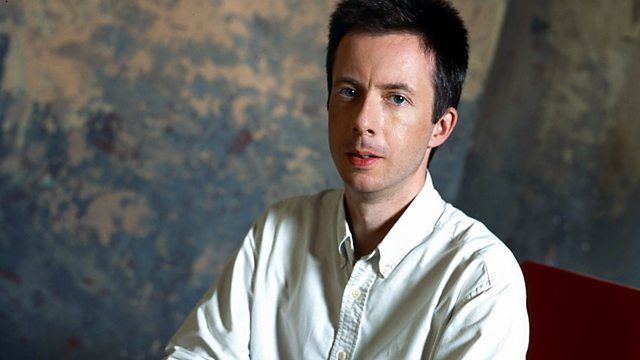 20/12/2012
John Shea continues the Sergiu Celibidache celebration with the Swedish Radio Symphony Orchestra in Berwald's Sinfonie singulière, plus Beethoven Symphony no 7 conducted by Manfred Honeck.
12:31 AM
Berwald, Franz [1796-1868]
Sinfonie singulière (Symphony no.3) in C major
Swedish Radio Symphony Orchestra, Sergiu Celibidache (conductor)
12:58 AM
Beethoven, Ludwig van (1770-1827)
Symphony No.7 in A major (Op.92)
Swedish Radio Symphony Orchestra, Manfred Honeck (conductor)
1:39 AM
Chopin, Fryderyk [1810-1849]
Sonata for cello and piano (Op.65) in G minor
Antonio Meneses (cello), Menahem Pressler (piano)
2:06 AM
Bach, Carl Philipp Emanuel (1714-1788)
Concerto for flute and strings in D minor (Wq.22)
Martin Michael Koffer (flute), Slovenicum Chamber Orchestra, Uros Lajovic (conductor)
2:31 AM
Beethoven, Ludwig van (1770-1827)
String Quartet no.14 (Op.131) in C sharp minor
Orlando Quartet
3:10 AM
Grieg, Edvard (1843-1907)
Jesus Kristus er opfaren' & 'I himmelen, i himmelen' - from 4 Psalms for baritone and mixed voices (Op.74 Nos.3&4)
Norwegian Soloists' Choir, Grete Helgerød (conductor)
3:24 AM
Tartini, Giuseppe (1692-1770)
Sonata No.6, 'Senti lo Mare' (Listen to the Sea)
Elizabeth Wallfisch (baroque violin)
3:31 AM
Haydn, Joseph (1732-1809)
Symphony no.4 (H.1.4) in D major
Slovak Radio Symphony Orchestra Bratislava, Ondrej Lenárd (conductor)
3:42 AM
Liszt, Franz (1811-1886)
Mephisto Waltz No.1 (S. 514) (Der Tanz in der Dorfschenke)
Lyuba Encheva (piano)
3:53 AM
Vivaldi, Antonio (1678-1741)
Concerto for string orchestra in C major (RV.114)
The King's Consort, Robert King (director)
3:59 AM
Lassus, Orlande de (1532-1594)
Chanter Je Veux
Banchieri Singers, Denes Szabo (conductor)
4:01 AM
Hoffmann, Leopold (1738-1793) (formerly attrib. to Haydn)
Concerto for flute and orchestra in D major
Emmanuel Pahud (flute), Bienne Symphony Orchestra, Marc Tardue (conductor)
4:21 AM
Verdi, Giuseppe (1813-1901)
Overture - Nabucco
Bergen Philharmonic Orchestra, Alun Francis (conductor)
4:31 AM
Purcell, Henry [1659-1695]
Chacony a 4 for strings (Z.730) in G minor
Psophos Quartet
4:39 AM
Brusselmans, Michel (1886-1960)
Scènes Breugheliennes - symphonic sketches
Flemish Radio Orchestra, Bjarte Engeset (conductor)
4:54 AM
Satie, Erik (1866-1925), arr. Makoto Goto
Je te Veux (Valse chantée pour piano)
Pianoduo Kolacny
4:58 AM
Strauss, Johann jr. (1825-1899), arr. Schoenberg
Rosen aus dem Suden (Roses from the South) - waltz for harmonium, piano and string quartet
Canadian Chamber Ensemble, Raffi Armenian (conductor)
5:07 AM
Fault, François du (1604-c.1670)
L'Offrande
Konrad Junghänel (lute)
5:14 AM
Bersa, Blagoje (1873-1934)
Dramatska predigra (Op.25a) (1898)
Croatian Radio Symphony Orchestra, Mladen Tarbuk (conductor)
5:29 AM
Brahms, Johannes (1833-1897)
Five Choral Songs (Op.104)
Danish National Radio Choir, Stefan Parkman (conductor)
5:43 AM
Chopin, Frédéric (1810-1849)
Piano Sonata No.2 (Op.35) in B flat minor
Shura Cherkassky (piano)
6:09 AM
Bach, Johann Sebastian (1685-1750)
Suite for Orchestra No.3 in D major (BWV.1068)
La Petite Bande, Sigiswald Kuijken (conductor).
Last on