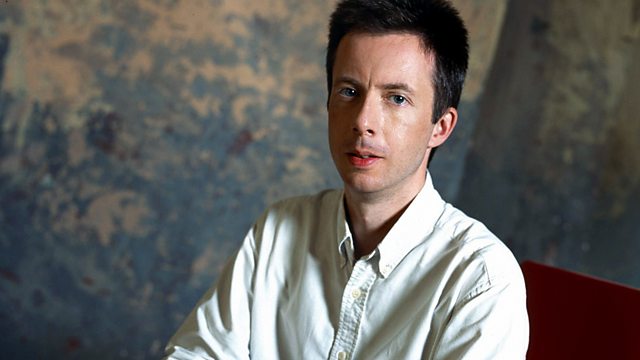 19/12/2012
John Shea presents a second programme celebrating the career of the conductor Sergiu Celibidache with the Swedish Radio SO featuring performances from the archives. Today Brahms's First Symphony and Beethoven's 4th Piano Concerto with Maria João Pires.
12:31 AM
Beethoven, Ludwig van [1770 -1827]
Concerto no. 4 in G major Op.58 for piano and orchestra
Maria João Pires (piano), Swedish Radio Symphony Orchestra, Daniel Harding (conductor)
1:06 AM
Brahms, Johannes [1833-1897]
Symphony no. 1 in C minor Op.68
Swedish Radio Symphony Orchestra, Sergiu Celibidache (conductor)
1:53 AM
Desprez, Josquin (1440-1521)
Miserere
Camerata Silesia, Anna Szostak (conductor)
2:08 AM
Geijer, Erik Gustaf (1783-1847)
Sonata for Piano (four hands) in F minor
Stefan Bojsten (piano), Anders Kilström (piano)
2:31 AM
Rossini, Gioachino (1792-1868)
Overture to L'Italiana in Algeri (Italian Girl in Algiers) - Opera in 2 Acts
Capella Coloniensis, Gabriele Ferro (conductor)
2:39 AM
Rachmaninov, Sergey (1873-1943)
Rhapsody on a theme of Paganini for piano and orchestra (Op.43)
Nikolay Evrov (piano), Bulgarian National Radio Symphony Orchestra, Vassil Stefanov (conductor)
3:04 AM
Ravel, Maurice (1875-1937)
String Quartet in F major
Bartók Quartet
3:32 AM
Marin, José (c. 1618-1699)
Si quieres dar Marica en lo çierto'
Montserrat Figueras (soprano), Rolf Lislevand (baroque guitar), Arianna Savall (double harp), Pedro Estevan (percussion), Adela González-Campa (castanets)
3:38 AM
Chabrier, Emmanuel (1841-1894)
España - rhapsody for orchestra
Toronto Symphony Orchestra, Andrew Davis (conductor)
3:44 AM
Handel, Georg Frideric (1685-1759)
Sonata in B flat for 2 violins & basso continuo Op.2/3, HWV.388
Musica Alta Ripa
3:55 AM
Haczewski, Antoni (C.18th/19th)
Symphony in D major
Polish Radio Symphony Orchestra, Andrzej Straszynski (conductor)
4:04 AM
Brahms, Johannes (1833-1897)
4 Songs for women's voices, 2 horns and harp (Op.17)
Danish National Radio Choir, Leif Lind and Per McClelland Jacobsen (horns), Catriona Yeats (harp), Stefan Parkman (conductor)
4:19 AM
Chopin, Frédéric (1810-1849)
Polonaise for piano in F sharp minor (Op.44)
Aldo Ciccolini (piano)
4:31 AM
Sarasate, Pablo de (1844-1908)
Zigeunerweisen (Op.20) vers. for violin and orchestra
Moshe Hammer (violin), Winnipeg Symphony Orchestra, Kazuhiro Koizumi (conductor)
4:40 AM
Bizet, Georges (1838-1875) trans. Vladimir Horowitz (1904-1989)
Virtuoso Fantasy on themes from 'Carmen'
Vladimir Horowitz (piano)
4:44 AM
Haydn, Joseph (1732-1809)
Trio for keyboard and strings in G major (H. 15.25) 'Gypsy rondo'
Grieg Trio
4:59 AM
Kocsár, Miklós (b. 1933)
Scale, tear!
Hungarian Radio Choir, Pèter Erdei (conductor)
5:05 AM
Abel, Carl Friedrich (1723-1787)
Symphony (Op.10 No.2)
La Stagione Frankfurt, Michael Schneider (conductor)
5:16 AM
Kuula, Toivo (1883-1918)
Satukavia (Op.19)
Juhani Lagerspetz (piano)
5:32 AM
Mozart, Wolfgang Amadeus (1756-1791)
Quartet for piano and strings (K.478) in G minor
Aronowitz Ensemble
5:58 AM
Schumann, Robert (1810-1856)
Manfred - Overture to the Incidental Music (Op.115)
Danish National Radio Symphony Orchestra, Michael Schønwandt (conductor)
6:11 AM
Haydn, (Franz) Joseph [1732-1809]
Symphony No 39 in G minor
Danish Radio Sinfonietta/DR, Adam Fischer (conductor).
Last on