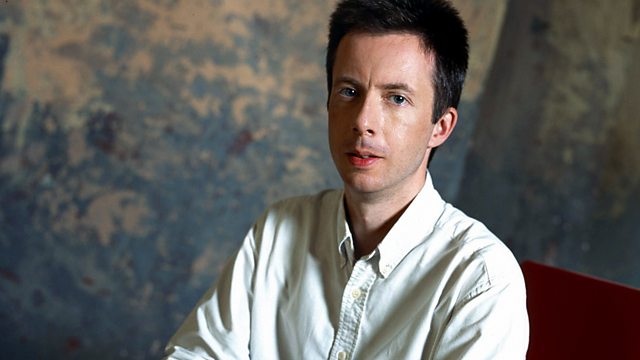 18/12/2012
John Shea presents the first of 5 programmes celebrating the career of the conductor Sergiu Celibidache with the Swedish Radio SO featuring performances from the archives. Today Ravel's Daphnis and Chloe.
12:31 AM
Ravel, Maurice [1875-1937]
Daphnis et Chloe - suite no. 2
Swedish Radio Symphony Orchestra, Sergiu Celibidache (conductor)
12:49 AM
Dvorak, Antonin [1841-1904]
Slavonic dances - series 2 Op.72
Swedish Radio Symphony Orchestra, Daniel Harding (conductor)
1:26 AM
Tchaikovsky, Peter Ilyich [1840-1893]
Symphony no. 5 in E minor Op.64
Swedish Radio Symphony Orchestra, Herbert Blomstedt (conductor)
2:14 AM
Mozart, Wolfgang Amadeus (1756-1791)
Sonata for keyboard (K.576) in D major
Jonathan Biss (piano)
2:31 AM
Berwald, Franz (1796-1868)
Piano Quintet No.1 in C minor (Op.5) (1853)
Lucia Negro (piano), Zetterqvist String Quartet
2:54 AM
Sibelius, Jean (1865-1957)
Symphony No.5 in E flat major, Op.82
Norwegian Radio Orchestra, Ari Rasilainen (conductor)
3:28 AM
Cable, Howard (b. 1920)
The Banks of Newfoundland
Hannaford Street Silver Band, Stephen Chenette (conductor)
3:36 AM
Beethoven, Ludwig van (1770-1827)
Piano Sonata No.23 in F minor (Op.57) 'Appassionata'
Plamena Mangova (piano)
4:02 AM
Zemzaris, Imants (b. 1951)
The Light Springs
Juris Gailitis (flute), Indulis Suna (violin)
4:08 AM
Rameau, Jean-Philippe (1683-1764)
Fanfarinette
Colin Tilney (harpsichord)
4:12 AM
Beethoven, Ludwig van (1770 -1827)
Finale from Symphony No.7 in A (Op.92) (arr. for forty hands)
Twenty Grand Pianos - Yoko Abe, Alwin Bär, Gérard van Blerk, Jacob Bogaart, Maarten Bon, Lodewijk Collette, Ellen Corver, Ton Demmers, Sepp Grotenhuis, Paul Komen, Jaap Kooi, Else Krijgsman, David Kuyken, Frank van de Laar, Carlos Moerdijk, Antoine Oomen, Nick van Oosterum, Robert Post, Daniel Wayenberg, Mariken Zandvliet (pianos), Joan Berkhemer (conductor)
4:21 AM
Grainger, Percy (1882-1961)
Hill-Song No.2
Melbourne Symphony Orchestra, Geoffrey Simon (conductor)
4:26 AM
Nordin, Bosse
Schottische
The Young Danish String Quartet
4:31 AM
Grieg, Edvard (1843-1907)
Triumphal March from 'Sigurd Jorsalfar'
Danish Radio Concert Orchestra, Roman Zeilinger (conductor)
4:41 AM
Handel, Georg Friedrich (1685-1759)
Gentle Morpheus, son of night - from Alceste
Emma Kirkby (soprano), Academy of Ancient Music, Andrew Manze (director)
4:50 AM
Saint-Saëns, Camille (1835-1921)
Introduction and Rondo Capriccioso (Op.28)
Taik-Ju Lee (violin), Young-Lan Han (piano)
5:00 AM
Wolf, Hugo (1860-1903)
Italian Serenade for string quartet
Ljubljana String Quartet
5:08 AM
Bozza, Eugène (1905-1991)
Jour d'été à la montagne
Giedrius Gelgoras, Albertas Stupakas, Valentinas Kazlauskas, Linas Gailiunas (flutes)
5:20 AM
Brahms, Johannes (1833-1897)
Five Choral Songs (Op.104)
Danish National Radio Choir, Stefan Parkman (conductor)
5:34 AM
Haydn, Joseph (1732-1809)
String Quartet in G major (Op.76 No.1)
Vertavo Quartet
5:54 AM
Schumann, Robert (1810-1856)
4 Nachtstücke for piano (Op.23)
Shai Wosner (piano)
6:11 AM
Bach, Johann Sebastian (1685-1750)
Suite for orchestra no.4 (BWV.1069) in D major
Bergen Philharmonic Orchestra, Roy Goodman (conductor).
Last on