Lively Minds
Katy Hill presents the Radio 4 Appeal for Lively Minds
Reg Charity:1125512
To Give:
- Freephone 0800 404 8144
- Freepost BBC Radio 4 Appeal, mark the back of the envelope Lively Minds.
Last on
Lively Minds
Lively Minds works in very poor villages in Ghana and Uganda where children don't have the basic early learning opportunities that we in the UK take for granted. Without education these children will never have the chance to break out of poverty.  Lively Minds trains and empowers uneducated mothers to run Play Centres in their villages.  The Centres reach young children at a crucial stage in their development, giving them happier childhoods and improving their education, health and wellbeing. This transforms the mothers too - giving them childcare skills, confidence and the support of other mothers. This is a low-cost, sustainable and fun way to bring about lasting change. Lively Minds is a very small charity but is already working in 50 communities. With your support they could work in 18 new villages next year, creating thousands more Lively Minds. 
Empowering mothers; Zaituna and her children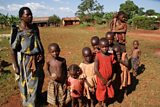 Zaituna is one of the mums Lively Minds has trained to run the Play Centre in Kagera village.  She says "The children are now very confident and can speak for themselves. I'd like my children to go on to school if I can afford it, but I'm sure they can prosper and look after themselves in the future with the skills they've learned."
Learning through play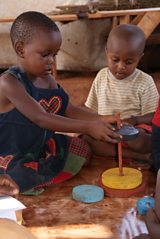 Lively Minds make games locally so they can be easily replicated. This simple game was made by a Ugandan craftsman and helps children learn about sizes and colours and builds their problem-solving skills.  Problem-solving is just what communities need to innovate and find creative solutions to improve their lives.
Creating Lively Minds
Education is a child's best chance for a brighter future. An educated child is more likely to avoid disease, gain employment and will have more options in life.  Lively Minds is proud to have already helped over 13,000 children. Next year, with your support, they will help thousands more.
Join our Facebook Community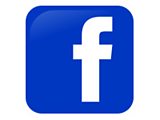 The place where you can find out more about the charities you support and ask them how they are spending your donations.