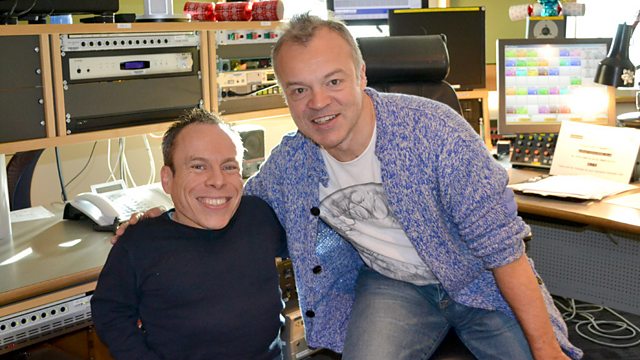 15/12/2012
How do you turbo-charge your Saturday morning? Well, according to Mr Norton all you have to do is listen to his show while following it on Twitter. (Other social media sites are available by the way.)
And today it was a busy one too. Actor Warwick Davis spoke of pantos, Hogwarts and a galaxy far, far, away, while singer Mika revealed he has always travelled, has some battered old suitcases and he has no intention of participating in Eurovision. This last bit made our host sad.
To add cheer, Bobbie gave us a long-range weather forecast and Maria showed off her new shoes.
In the I Can't Believe It's Not Better corner, Kevin in Bridgwater suggested Black Lace's Superman. Thanks Kevin, while Angela Butler abandoned her daughter's swimming contest to nominate Val Doonican's The Special Years. And 2013 will be a special year - nice link - for both Angela and our host because they'll both be celebrating their 50th birthdays. Cards and gifts should be addressed to...
Last on