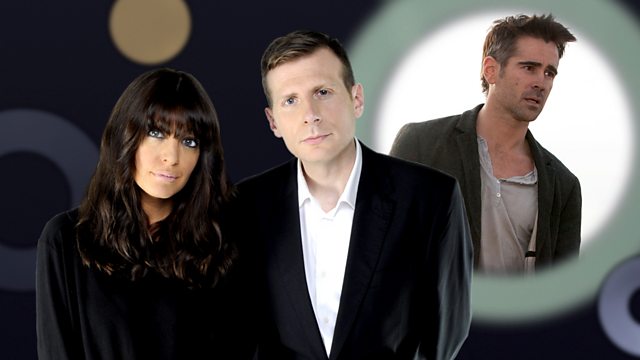 Claudia Winkleman and Danny Leigh review films including romantic comedy Celeste and Jesse Forever, and dark thriller I, Anna, starring Charlotte Rampling and Gabriel Byrne. Plus Colin Farrell and In Bruges director Martin McDonagh team up again for Seven Psychopaths.
Last on
REVIEW OF CELESTE & JESSE FOREVER
Claudia:  Rashida Jones is incredibly watchable, so is he [Andy Samberg], but my problem with it is that it's utterly unrealistic. These people are so irritating. You'd think they'd still be together, and then they're not. As it's supposed to be indie and rom-com, I just didn't find any of it believable.
There is also this subplot with Riley (played by Emma Roberts) - she's perfectly good, but none of it was believable; but maybe that's what happens in LA, where she's suddenly looking after Britney Spears… that's not real right?
Danny: Despite the title, this film is about one person really— Rashida Jones. It's such a showcase for her, and her talent, that by the end of it you're expecting her to do handstands. It's frustrating, because there are so many times here where it's much better than your average rom-com. You get  nuggets of originality, but you also get fatty lumps of cliché. At those moments you can almost see Rashida Jones morph before your eyes into this nightmarish combination of Jennifer Aniston, Reese Witherspoon and Katherine Heigl.
There is good stuff here. A lot of it is sharply written, and Rashida Jones plays an interesting character because she's not particularly cute or adorable, and there's a nicely wistful tone to all of it. You would expect more from Rashida Jones—she's a face to watch, and this is a disappointment. Ultimately, if you were going to go on a date with this film, you wouldn't do a runner while it was in the bathroom, but you would ignore its texts the following day.  
REVIEW OF SEVEN PSYCHOPATHS - DANNY'S FILM OF THE WEEK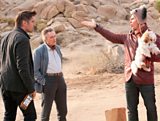 Claudia: I thought it was drivel. Christopher Walken is good, but the rest is a nonsense. It thinks it's supremely clever. The other problem is that because 'In Bruges' was so fantastic, my expectations were far too high. It thought, it's Farrell, it's McDonagh—again, they're going in to create this magical thing! The actors are all good… the script I didn't really understand, and it's not real. You have an out-of-work actor and out-of-work screenwriter having drinks, and they have big flats. I was on Woody Harrelson's side. I wanted them to all die really fast.
There are no women in it! Abbie Cornish is in it for about 8 seconds, and them making a joke about "all the women get killed" or all the women get such-and-such, isn't enough. Then, there are massive signposts saying "somebody going to get a mention in the credits" and the credits happen—it's not good.
Danny: If 'Seven Psychopaths' was half as good as it thinks it is, it would still be the greatest movie ever made. As it is, it's half an awful lot of fun, and half a kind of lazy drooling mess. It's blood soaked; it's full of in jokes. Christopher Walken side-steps into the film, as a dog thief, and dances off with the movie. There are about 30 minutes of manically enjoyable stuff, but what audiences are supposed to do with the remaining 1 hour 10 minutes, I don't know.
You're willing this film to be better than it is because of 'In Bruges'. I would concede that one of the problems is that in 'In Bruges', Colin Farrell is the funny guy, and he's great as the funny guy. Here, he plays the straight man. And Colin Farrell, and I say this in a purely professional context, is not a straight man.
REVIEW OF LOVE CRIME
Danny: 'Love Crime' is the kind of thriller where everyone seems to live in a sort of show home—it's sleek and glossy tale of corporate skulduggery that becomes a fully-fledged noir. It becomes something that the late great French thriller director, Claude Chabrol, wouldn't be ashamed to put his name to. My only problem with it is it has the most appalling soundtrack that I've heard in years. There's a sort of honking saxophonist who plays over entire scenes. It's as if the world's worst busker broke onto the set, and Alain Corneau, the late director of this movie, can't restrain him.
You have to accept that for the plot to function, the entire French police force has to be staffed by the sons of Inspector Clouseau. In terms of performances, Kristin Scott Thomas is reliably great. Interestingly, this is being remade already by Brian De Palma, under the title of passion. I like both films. So it's a thumbs up.
Claudia: I really enjoyed it. I thought both girls were really, really good. It reminded me a lot of 'Damages', with Rose Byrne and Glenn Close. So I loved it. My problem was probably the last 30 seconds of the film where it just turned into mayhem.
REVIEW OF I, ANNA - CLAUDIA'S FILM OF THE WEEK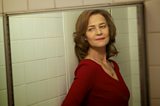 Claudia: I loved it! I found it compelling. Gabriel Byrne - I love the man. Charlotte Rampling is excellent in it. It's beautifully edited, it's beautifully shot. It makes London look glossy. I didn't see the end coming. It's my film of the week. I would definitely recommend 'I Anna'.
Danny: 'I Anna' is obviously a good-looking movie. It's got bags of atmosphere, all topped off by Charlotte Rampling striding around London in a trench coat. There can be such a thing as an excess of style, and 'I Anna' falls into that trap. It's the kind of film where a character can't make the tea without it looking like it took three-and-a-half-weeks to set the shot up, and it could be doubling as a spread in vogue.
There's a couple good movies trapped under the surface. There's a decent cop thriller with Eddie Marsan, which I would have liked to see, and there's a drama about two middle-aged lost souls on the dating scene. As a noir, like a bad soufflé, it collapses in the middle. I'm genuinely interested in seeing what Barnaby Southcombe does next, but I'm not interested in seeing this film again.
Credits
| Role | Contributor |
| --- | --- |
| Presenter | Claudia Winkleman |
| Presenter | Danny Leigh |
| Series Producer | Jayne Stanger |
| Executive Producer | Basil Comely |