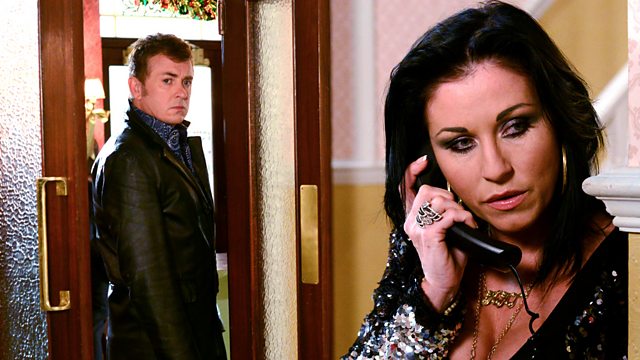 07/12/2012
Finding the stub of the receipt from the ring that Kat pawned, Alfie worries about its disappearance. Paranoid, he watches Kat laughing with Michael, before overhearing her on the phone saying 'I love you'. Kat claims it was her dad; Alfie's not convinced. He redials. It was. Charlie's not well so Kat's going to visit. Michael arrives to give Kat a lift. Really? Alfie questions whether he's a soft touch following advice from Jack and Michael. Alfie finds the ring Kat pawned. How has she got it back?
Max has bought an ornamental reindeer, but the nose doesn't light-up. Joey receives a court form. Alice tells Joey she wants them and Derek to be together on Christmas Day. Joey doesn't. Max receives a replacement reindeer. Tanya's unsure about Max's efforts; she hasn't had her scan results yet. Max explains to Joey: Lauren's accident scared him and he wants his family close on Christmas - Joey's not invited. Later at R&R, Lauren watching, Joey asks Lucy to go back to hers. Once there, he tells her he's in love with someone else and leaves. Joey goes to Max's house. He ticks the 'plead guilty' box on the court form and punches Rudolph's nose.
Sharon and Jack bicker about Phil. Sharon tells Lola Phil came clean to Social Services. Lola's gutted. Sharon tries to reassure Lola but Shirley thinks it's game over.
Bianca's worried about how she'll afford a Christmas tree but rejects Derek's baubles. Later, Carol, Morgan and Liam reveal to Bianca a homemade cardboard Christmas tree decorated with Pat's earrings.
Denise eyes-up Ian's fruit and veg, later revealing she's setting up a Caribbean fruit and veg stall outside the Minute Mart. Kim hints to Ray she wants an engagement ring for Christmas. Ray makes a quick escape.
Fatboy moves into the B&B.
Last on
Credits
| Role | Contributor |
| --- | --- |
| Alfie Moon | Shane Richie |
| Kat Moon | Jessie Wallace |
| Joey Branning | David Witts |
| Lucy Beale | Hetti Bywater |
| Lauren Branning | Jacqueline Jossa |
| Max Branning | Jake Wood |
| Tanya Cross | Jo Joyner |
| Abi Branning | Lorna Fitzgerald |
| Derek Branning | Jamie Foreman |
| Alice Branning | Jasmyn Banks |
| Jack Branning | Scott Maslen |
| Sharon Rickman | Letitia Dean |
| Lola Pearce | Danielle Harold |
| Shirley Carter | Linda Henry |
| Bianca Butcher | Patsy Palmer |
| Carol Jackson | Lindsey Coulson |
| Liam Butcher | James Forde |
| Denise Fox | Diane Parish |
| Kim Fox | Tameka Empson |
| Ray Dixon | Chucky Venn |
| Ian Beale | Adam Woodyatt |
| Roxy Mitchell | Rita Simons |
| Michael Moon | Steve John Shepherd |
| Arthur 'Fatboy' Chubb | Ricky Norwood |
| Morgan Butcher | Devon Higgs |
| Executive Producer | Lorraine Newman |
| Director | Richard Lynn |
| Writer | Jeff Povey |