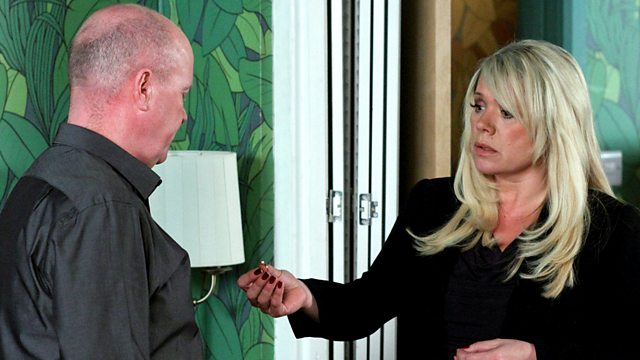 06/12/2012
Jack warns Phil someone might tell social services about his false engagement. Worried that Jack or Shirley might tell, Phil threatens them both. The Social call Phil: they want to visit. Sharon advises they stick to their lie. A new social worker visits. Paranoid, Phil confesses they've called the engagement off, asking who told them. The social worker replies 'no-one' but Phil convinces Sharon Jack would've told them eventually, if he hasn't already. Phil threatens Jack: if Lexi ends up in care, he'll hold him personally responsible.
Alfie tells Kat he's going shopping for more Christmas stock in Stratford. Kat isn't keen on him going. Tommy isn't sleeping well so Jean recommends Alfie gets scented candles; Kat used one when he was away and it worked wonders. Alfie asks Kat where she got the candle, Kat claims it was from the Minute Mart. Later, Denise reveals they don't sell them. Alfie finds out Kat closed the Vic early while he was away, because it was 'quiet'. Alfie worries it may have been for another reason…
Alice seems morose and Derek's worried. He calls on Carol for help, who suggests Alice might be missing her mum. Derek asks Carol to move in with them. He offers her a wage, but she refuses.
Kim's chuffed as the B&B's reopening. Denise is down due to struggling business at the Minute Mart. Kim recommends Denise revamps the shop. Roxy says she needs an angle. After watching Ian doing good business on his stall, getting advice off Cora that people want goods cheaper than the market and being recommended by Ian to steal others' ideas, Denise is inspired…
Cora is struggling to pay her rent. Poppy isn't pleased. Jean helps Cora look for a job. Dot's old job at the launderette seems appealing.
Last on
Credits
| Role | Contributor |
| --- | --- |
| Phil Mitchell | Steve McFadden |
| Jack Branning | Scott Maslen |
| Sharon Rickman | Letitia Dean |
| Shirley Carter | Linda Henry |
| Lola Pearce | Danielle Harold |
| Alfie Moon | Shane Richie |
| Kat Moon | Jessie Wallace |
| Cora Cross | Ann Mitchell |
| Denise Fox | Diane Parish |
| Ian Beale | Adam Woodyatt |
| Derek Branning | Jamie Foreman |
| Carol Jackson | Lindsey Coulson |
| Alice Branning | Jasmyn Banks |
| Poppy Meadow | Rachel Bright |
| Jean Slater | Gillian Wright |
| Kim Fox | Tameka Empson |
| Roxy Mitchell | Rita Simons |
| Executive Producer | Lorraine Newman |
| Director | Richard Lynn |
| Writer | Paul Mari |
Shocked Sharon confronts "K"