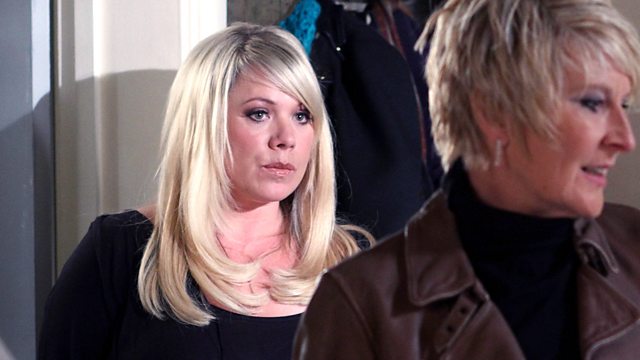 04/12/2012
Phil fears Shirley will interfere with Lexi's care order. Jack's annoyed Sharon's spending time with Phil. Shirley's mad about Ben's 4 year sentence. Jay says Phil's changed; he's trying to be Lexi's foster carer. Shirley visits Sharon, revealing Phil's past crack addiction and insisting he shouldn't be near Lexi. On discovering the false engagement, Shirley thinks Phil's using Lexi to get back with Sharon. Shirley threatens to call Social services and offers to help Lola. Phil defends that he's trying to help Billy as he has nothing left with Ben in prison. Shirley relents. She's about to leave the Square but then discovers Ben is Lexi's dad. Shirley warns Lola, Sharon and Jack that Phil won't give Lexi back and vows not to let Phil win.
It's Bianca's first day working for tips at Booty. She assures her kids she'll earn lots and buy a Christmas tree. Carol isn't convinced. She gives Lauren money to tip Bianca with. At Booty, Lola's taking all the customers. Bianca complains to Tanya, but gets in trouble for shouting. Tanya tells Bianca she's off for a scan. Lauren arrives, and Bianca reveals Tanya's whereabouts. Lauren leaves; forgetting to tip. Tanya returns to Bianca mouthing off. Tanya tells Bianca to go home and come back tomorrow.
Max isn't happy; Lauren's hungover and has forgotten about Tanya's scan. Lauren wants to talk to Tanya, but Tanya's busy. Lauren lets slip to Abi about Ava. Cora's angry at Lauren, but Lauren snaps she's missed Tanya's scan. Cora tells Abi about Ava, and advises her to be there for Lauren. Abi suggests Cora do the same with Ava. Abi returns home. Lauren's drunk and upset. Abi reassures her she's there. Cora visits Ava's school and gives her a card and a bracelet given to her by Ava's dad.
Last on
Credits
| Role | Contributor |
| --- | --- |
| Shirley Carter | Linda Henry |
| Phil Mitchell | Steve McFadden |
| Sharon Rickman | Letitia Dean |
| Jack Branning | Scott Maslen |
| Lola Pearce | Danielle Harold |
| Cora Cross | Ann Mitchell |
| Ava Hartman | Clare Perkins |
| Tanya Cross | Jo Joyner |
| Lauren Branning | Jacqueline Jossa |
| Abi Branning | Lorna Fitzgerald |
| Max Branning | Jake Wood |
| Derek Branning | Jamie Foreman |
| Bianca Butcher | Patsy Palmer |
| Carol Jackson | Lindsey Coulson |
| Poppy Meadow | Rachel Bright |
| Denise Fox | Diane Parish |
| Jay Mitchell | Jamie Borthwick |
| Liam Butcher | James Forde |
| Morgan Butcher | Devon Higgs |
| Executive Producer | Lorraine Newman |
| Director | Richard Lynn |
| Writer | Rebecca Wojciechowski |