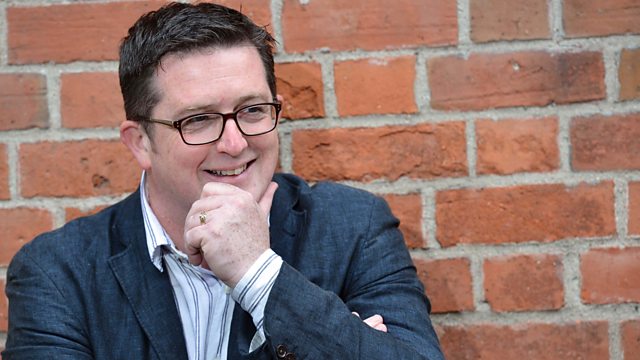 08/12/2012
Join John Toal for big interviews, fascinating people and great craic, plus the best in home-cooked food with recipes from kitchen queen Paula McIntyre. Including News.
Last on
Fried Brussels Sprouts with Roast Red Onions & Mustard Seeds
750g Brussels sprouts, cut in half through the root                                                               
4 small red onions
50ml red wine                                                                                             
2 tablespoons balsamic vinegar
2 teaspoons mustard seeds
1 tablespoon honey
2 tablespoons rapeseed oil
Salt and pepper to taste
Boil the sprouts in salted water until just cooked. Drain and cool under cold water and dry on kitchen paper.
Peel the onions, leaving the root intact. Cut in half, then cut each half in 3 slices, through the root.
Take a sheet of tin foil and place onions on top.
Drizzle with a tablespoon of  the oil and season with salt and pepper.
Drizzle over the honey, mustard seeds and balsamic and gather up the foil to form a pocket. Place on a baking tray and bake in a 200oc oven for 30 minutes or until onions are soft.
Heat the remaining oil in a large frying pan until smoking and add the sprouts. Cook until golden and sealed on the cut side. Add the cooked onions and juices and cook until the juices have evaporated.
Serve.
Parsnips wrapped in bacon with walnuts and parsley cream
6 medium parsnips
12 rashers smoked streaky bacon
1 tablespoon rapeseed oil
75g roughly chopped walnuts
100ml double cream
75g grated sharp cheddar
Handful chopped flat leaf parsley
Peel the parsnips and split down the middle.
Boil the parsnips in salted water until they are just cooked.
Drain and dry on kitchen paper.
Wrap each parsnip half in a slice of bacon.
Heat the oil in a pan and fry the parsnips until golden.
Transfer to a baking dish.
Fry the walnuts briefly in the fat and then transfer to the cream. Mix in the cheese and parsley and scatter over the top of the parsnips.
Bake in a 180oc oven for 20 minutes.
Carrots and fennel baked with pomegranate and star anise
2 bulbs fennel
1 teaspoon white wine vinegar
4 medium carrots
1 tablespoon rapeseed oil
1 tablespoon soy sauce
2 star anise
2 tablespoons pomegranate molasses ( available in Asian supermarkets, delis and some regular supermarkets)
1 tablespoon sesame seeds
Cut the fennel in half through the root and cut each half into 3 pieces through the root. Toss in the vinegar to stop it discolouring. Peel the carrots and split in half lengthwise.
Take a sheet of tin foil and place the carrots and fennel on one side. Scatter over the sesame seeds and rapeseed oil. Drizzle over the soy and pomegranate molasses and place the star anise in the middle. Gather up the foil to make a parcel and place in a 200oc oven for 30 minutes or until vegetables are soft. Remove top of foil and cook for a further 5 minutes to reduce the juices.