Rewilding/Devonshire Beavers
Many conservationists say that the British countryside is too crowded and managed to be of real benefit to our native wildlife. For Saving Species this week Brett Westwood takes a close look at this premise and asks the question, can some areas of our managed landscape be returned to their former glory and therefore become hotspots to support our native wildlife?
Brett Westwood travels to Sussex to Knepp Castle Estate to find out how landowner Charlie Burrell is managing his land in a wilder way. Once a traditional arable and dairy farm, for the last 11 years the estate has been restoring and regenerating the land to boost biodiversity and allow less intensive meat production. The 1,400 hectares are grazed by roaming herds of Old English Longhorn cattle, Exmoor ponies, pigs and deer as part of the estate's Wildland project. A stretch of the River Adur which flows through the estate is also being changed - having been canalised in the past, the path of the river is being more naturalised to restore meanders and to incorporate natural floodplains.
Chris Sperring returns to Devon a year on from his last visit to find out how some of nature's architects are managing their local patch in the second year of a three year experimental project run by the Devon Wildlife Trust. Fenced within a 2.8 hectare site, the 2 beavers, a male and female have continuing to create dams and large pools and manage the water flow across the site.
Also in the programme - News from around the world with our regular news reporter, Kelvin Boot. And we'll update you on the activities of the Open University's iSpot.
Presenter: Brett Westwood
Producer: Sheena Duncan.
Last on
Knepp Castle Estate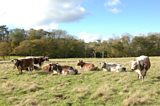 Knepp Castle Estate is a 3,500 acre estate in West Sussex just south of Horsham.  Owned for over 220 years by the Burrells, the castle on the estate remains the family home.
The majority of the land was used for traditional arable and dairy farming up until 2001, when the focus shifted towards a series of regeneration and restoration projects. The introduction of the Knepp Wildland Project focused on nature conservation and allowed the animals on the estate to roam freely with little human intervention.
Devonshire Beavers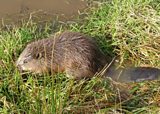 The Devon Beaver Project is a three year scheme run by the Devon Wildlife Trust which aims to find out more about the species.  It is thought that the beavers will enhance the wetland value of the 2.8 hectare site, and in effect will be used as a land conservation management tool in the same way cattle and ponies are.
The Devon Wildlife Trust are developing techniques to measure the impact beavers have on the hydrology, biology and water chemistry of the site.  For updates on the project you can visit the Beaver Blog.
Image courtesy of the Devon Wildlife Trust