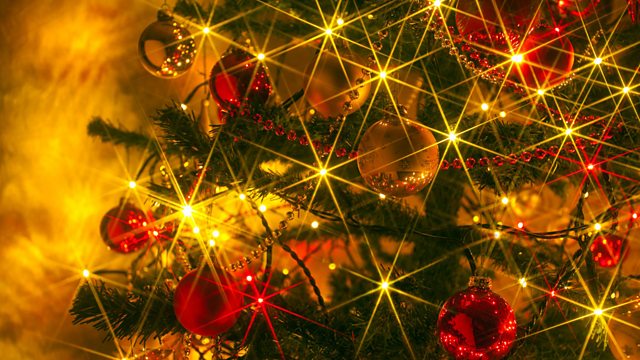 17/12/2012
Home crafts expert Karon Grieve will be here every day this week to give you some handy hints for last minute Christmas preparation. She kicks things off today with a look at pampering gifts.
Ahead of a programme celebrating the life and times of jazz legend Annie Ross Stephen Duffy joins Fred to tell us more about the woman known as the 'Scottish Shirley Temple'.
Look out for those potholes! We get a guide to winter cycling.
Have you voted for which comedy you want to bring in 2013 with yet? What are you waiting for? But wait... You might want to hold off until you've heard Dean Park extoling the virtues of his favourite: Chewin' The Fat.
Would you be happy putting your life in the paws of your canine companion? Ian Hamilton will be here to tell us how many people do just that as he discusses BBC1 Scotland documentary In Dog's We Trust.
And Gary Marshall is here with his last technology surgery of the year.
Last on
Last Minute Pamper Gifts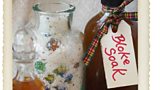 Before the advent of chemicals, artificial colourings and other environmentally unsound goodies, people would make most of their own cosmetic and household preparations. Herbal bathing vinegars were not produced for shaking on salads, instead they were fabulous tonics for the hair and skin and used at bath time. You can make these using just two store cupboard ingredients; a jar of dried herbs and 400ml of cider vinegar. Here's how;
HEAVENLY HERBAL HAIR RINSE
350ml bottle of Apple Cider Vinegar
Use 2 tablespoons of any of the following dried herbs (that's about half of a little supermarket sized jars) Sage for grey, dry or dull hair Rosemary for dark or oily hair Chamomile (use 4 chamomile tea bags) for fair hair or itchy scalp Pour the cider vinegar into a small pan and add your chosen herbs.
 Bring to a simmer (just below boiling point) for 20 minutes, remove from heat and let it cool overnight.
Line a sieve with kitchen paper and pour the herby vinegar through.
Pour into a pretty little bottle with a label telling the recipient to use about a half cupful of the hair rinse with the same amount of water after they have shampooed their hair, leave for 5 minutes and rinse off with clear water.
This is great for removing hair product build up and also for folks in areas with hard water which can make your hair really flat and dull. This costs approximately £1.50, will take 20 minutes of actual 'doing' time plus sitting over night. You can't buy old fashioned cider rinses in the shops.
Last Minute Pamper Gifts
BLOKE SOAK REFRESHER BATH
Adding vinegar to your bath water helps restore the skin's natural pH balance.
This Rosemary and Peppermint blend is reviving and cleansing with natural deodorising properties too.
350ml bottle of apple cider vinegar 4 tablespoons (about 1 little bottle of the dried herbs) of rosemary 6 peppermint tea bags or half bottle of dried peppermint
Pour the vinegar into a small pan and add the herbs and tea bags.
Bring to a simmer (tiny bubbles on the surface) for 20 minutes and then leave it to cool overnight.
Strain through kitchen paper in a sieve and bottle. Label as 'Bloke Soak' with the instructions to pour half a cup into the bath as you are running in the hot tap. Lie back and relax.
This costs approximately £1.50 and takes about 20 minute of 'doing' time plus leaving it to sit over night.
Again you can't buy this sort of old fashioned thing in the shops.
 FABULOUS FOOT FIXER
Everyone gets sore feet at Christmas time.
 Whether you are pounding the streets buying gifts for family and friends, or staggering round the supermarket in that non stop food buying frenzy, your poor feet take the brunt of it all.
Here is a simple recipe for a fun foot fixer to cool, relax, cleanse, massage and freshen those tired feet.
1 bag of glass marbles or even smooth pebbles if you have any on your driveway (not the jaggy chuckies, and do wash them well)
 ½ cup of Epsom salts
½ cup rock salt
6 drops peppermint essential oil 2 tablespoons dried peppermint
Mix the essential oil with a tablespoon of the salt mix and let this sit for an hour to infuse.
 Now mix it in well with the rest of the salts and the dried peppermint.
 Pour this into a chunky jar along with the marbles/pebbles and a note with instructions to pour half a cup into a basin and pour on warm water, dip in those tired tootsies and rub soles of feet up and down the marbles for a fabulous massage. Sheer bliss!
This costs approximately £2.50 and of course you can reuse the marbles after to either play with (good relaxation) or as decor in a flower vase to keep them upright. It only takes about 10 minutes to put together. You can buy fancy bottles of salts for your feet but not with marbles like this, and you pay a fortune for these sorts of things.