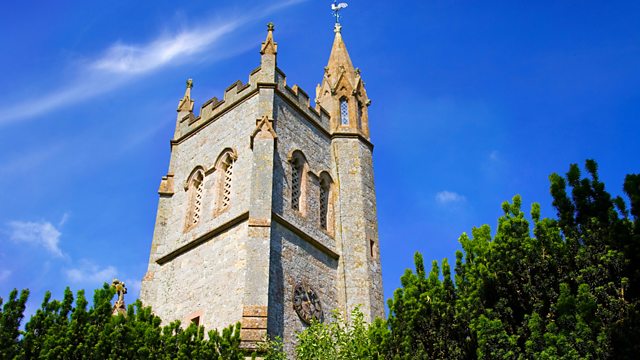 09/12/2012
Advent Expectations - Expect the Unexpected. Live from The Salvation Army's Regent Hall, London; Preacher: Commissioner William Cochrane; Leader: Major Richard Gaudion; The Regent Hall Band and Songster Brigade are directed by Steve Hanover; Producer: Simon Vivian.
Advent is a time of expectation. The Biblical texts are filled with anticipation of the coming Messiah, promises of hope for the future, and expectations of the Second Coming of Christ. It's a time that we're called on to question what's expected of us and reflect upon what we can expect from God. As we prepare for Christmas our hearts are filled with expectations, which may or may not be fulfilled. And we are also reminded that God does not show His love for us in the way we expect; rather than making a great and triumphant entry into the world, he comes to us as a tiny, vulnerable child.
Christians believe that the coming of Christ turns to the world on its head. The focus is not on the great and the powerful but rather, at this time, we turn our thoughts to the small and the weak. Jesus was not born in the manner befitting of a great leader, a Messiah, but he came into the world homeless, without even a bed to sleep in. And the most unexpected thing is that this tiny child would be the one to bring about a new world order in which unexpected things happen; where the lion and the lamb lie down together, where the poor are brought good news and prisoners set free.
Last on
Salvation Army Regent Hall
It's ten past eight and time for Sunday Worship – Advent Expectations - live from The Salvation Army's Regent Hall in Central London. The service is introduced by Major Richard Gaudion after the call to worship, featuring soprano soloist Kerry Sampson and the Regent Hall Songsters. HYMN ALL RISE Good morning and welcome to Sunday Worship on this second Sunday of Advent when we'll be exploring the wonderful expectations of this season. The Salvation Army has been privileged to serve in London for nearly 150 years and we continue to uphold the calling first heard by our founders, William and Catherine Booth. You join with us this morning in the very heart of London's West End, at the Regent Hall Corps, known and loved by many Salvationists all around the world.  Our corps building is the only church situated directly on one of the world's busiest streets – Oxford Street – bustling at this time of year with shoppers preparing for Christmas. This central location supports our mission as we strive to offer Christ to all - offering a heart to God and a hand to God's people for those in our multi-cultural congregation, our thriving youth work, and in our wider community. In this season of Advent as we prepare ourselves to hear again the wonderful message of Christmas, we pray that you will join with us in sensing the anticipation of the coming of the Saviour of the World.  And so we sing our first Advent hymn  – "Lo He Comes with Clouds Descending" RICHARD TO INTRODUCE ANN STEWART Lo! He comes with clouds descending, Ann Stewart, the leader of our contemporary worship group, will now bring us into a time of prayer with a vocal solo which speaks of our need of God – during which two of our young people – Andrew Pomering and Gemima Stewart - will light candles on our Advent Wreath. ANN STEWART VOCAL SOLO
BREATHE
PRAYER
NEIL RAPP
PRAYER
YOMA MARTIN
This is the air I breathe
Your greatness knows no boundaries. When we think of all that you are and have done it is beyond our comprehension. You are all-knowing, all-seeing, always present – there is none like you. Nothing is too great for your hand. You brought order out of chaos and created every living thing. You formed the earth and flung stars into space. We each have been lovingly made in your image and despite our failings and rejection of your love towards us, still you reach out to us in saving grace to forgive, restore and renew us to be all that you want us to be.
We thank you that you continue to seek us and find us everyday. No matter where we are in life, how we are feeling, what we are doing – you are there. Even though we do not always acknowledge you, you are always there, waiting for us in unexpected places. Thank you for the assurance of your presence and for the comfort, peace, hope and joy that it brings to us. Thank you for your daily care and for showing us that you are always there for us.
Lord, we come to worship you with hope and joy:
We ask that by your Holy Spirit you will use our worship to prepare us for the coming of Jesus.  May the words of Scripture we hear read, and the word of hope that is proclaimed fill our lives with joy and give you all the glory.
Through Jesus Christ our Lord,
ALL: Amen
RICHARD
Introduction about Songsters
Advent is a time of expectation. The Biblical texts are filled with anticipation of the coming Messiah, promises of hope for the future, and expectations of the Second Coming of Christ.  It's a time when we're called on to question what's expected of us and reflect upon what we can expect from God.
But we're also reminded that God doesn't always show His love for us in the way we expect; as the Christmas story reminds us, rather than making a great and triumphant entry into the world, the King of Kings comes to us as a tiny, vulnerable child.  Jesus was not born in the manner befitting of a great leader, a Messiah, but he came into the world homeless, without even a bed to sleep in. And the most unexpected thing is that this tiny child would be the one to bring about a new world order in which unexpected things happen; where the lion and the lamb lie down together and where the poor are brought good news.
The coming of Christ therefore turns the world on its head.  As Christians, our focus should not be on the great and the powerful of our society but on the small and the weak of our world.
Music plays an important part in Salvation Army worship. Many of our corps have brass bands as well as choirs - known as Songsters.  And many also have contemporary worship groups.
Regent Hall Songster brigade has over 50 members, including many students studying at universities, colleges and academies throughout London. Music styles range from modern hymns and spirituals, to classical and folk music. But whatever the style, wherever the Songsters sing, their purpose, through their music, is to seek to introduce people to Jesus Christ and his power to change lives.
The song you will now hear – All the World is Waiting – is based on words found in St Paul's letter to the Romans chapter 8 and in the Book of Revelation chapter 22 . The song recognises the need that we have, as a world, for the Saviour Jesus Christ and urges him to "come quickly".
The Songsters
All The World Is Waiting
ALL THE WORLD IS WAITING
Bible Reading
Marjory Kerr
The first Bible reading is from the Book of the prophet Isaiah, chapter 11, in which the prophet foretells the peace which Christ will bring.
There shall come forth a shoot from the stump of Jesse, and a branch shall grow out of his roots.  And the Spirit of the LORD shall rest upon him, the spirit of wisdom and understanding, the spirit of counsel and might, the spirit of knowledge and the fear of the LORD.  And his delight shall be in the fear of the LORD.  He shall not judge by what his eyes see, or decide by what his ears hear; but with righteousness he shall judge the poor, and decide with equity for the meek of the earth; and he shall smite the earth with the rod of his mouth, and with the breath of his lips he shall slay the wicked.
Righteousness shall be the girdle of his waist, and faithfulness the girdle of his loins.  The wolf shall dwell with the lamb, and the leopard shall lie down with the kid, and the calf and the lion and the fatling together, and a little child shall lead them.  The cow and the bear shall feed; their young shall lie down together; and the lion shall eat straw like the ox.  The sucking child shall play over the hole of the asp, and the weaned child shall put his hand on the adder's den.  They shall not hurt or destroy in all my holy mountain; for the earth shall be full of the knowledge of the LORD as the waters cover the sea.  In that day the root of Jesse shall stand as an ensign to the peoples; him shall the nations seek, and his dwellings shall be glorious.
[Isaiah 11:1-10]
Congregational Song
438
Tune 430
Blaenwern
1. Love divine, all loves excelling,
Bible Reading Julian Watchorn
The second Bible reading is from the Gospel of Luke, chapter 4 beginning at verse 16, in which Jesus announces his purpose.
And Jesus came to Nazareth, where he had been brought up; and he went to the synagogue, as his custom was, on the Sabbath day.  And he stood up to read; and there was given to him the book of the prophet Isaiah.  He opened the book and found the place where it was written, "The Spirit of the Lord is upon me, because he has anointed me to preach good news to the poor.  He has sent me to proclaim release to the captives and recovering of sight to the blind, to set at liberty those who are oppressed, to proclaim the acceptable year of the Lord."
And he closed the book, and gave it back to the attendant, and sat down; and the eyes of all in the synagogue were fixed on him.  And he began to say to them, "Today this scripture has been fulfilled in your hearing."
[Luke 4:16-21]
RICHARD
Introduction of COMMISSIONER WILLIAM COCHRANE
Our speaker this morning is Commissioner Bill Cochrane who is The International Secretary to the Chief of the Staff, the second-in-command of the Salvation Army. Among his responsibilities, the Commissioner is responsible for The Salvation Army's world-wide mission, operating in 126 countries.
COMMISSIONER
COCHRANE
Sermon Part 1
When Jesus stood up to preach in the synagogue in his home town of Nazareth he declared his destiny using the words of the prophet Isaiah, and in doing so he linked the destiny of the church with his.  In what might be termed, in the language of today, his personal but God-given 'manifesto', Jesus declared precisely where he stood and where God remains – on the side of the poor.  He is very specific – it's the victim and the captive, the weak by which ever circumstance, any under oppression – for all of them the day of the Lord's favour will come!
That congregation was taken by surprise – Jesus was not what they expected.  In accepting his calling as the fulfilment of Isaiah's prophetic words he was placing himself on the line and when he did that, they didn't like it.  This was to be his experience – his obedience received no reward.  Instead, Luke's gospel goes on to tell us that Jesus was hounded out of town and the road he took would eventually lead him into not 'the sunshine of glory' but to face 'the heavy rain of persecution'.  His destination was a place called Calvary and his reward was a cross.
Followers of Jesus Christ know therefore - and without doubt - that to follow Him is no escape route from the hardness of life but will entail periods of darkness - our own and to share in the dark experience of others.
But the prospect that light will shine in the darkest places of this world is at the heart of this season of Advent.  The calling and privilege of the people of God is to take that flame and cry of hope, so brightly lit and resoundingly declared in Nazareth, into a needy and hurting world.
At this Salvation Army worshipping and serving community at Regent Hall there is an advice and support centre for people who are homeless and vulnerable adults - people who are rough sleepers, those who are sofa-surfing or vulnerably housed in bedsits and hostels - as well as for adults with mental health needs.  More than just providing hand-outs, the Regent Hall centre, like many other churches and charities up and down the land, offers an island of safety in a sea of uncertainty and insecurity.
James is an ex-rough sleeper and has been a volunteer client helper at the homeless centre since 2008.  He is the resident chef on the Wednesday drop-in, producing amazing homemade soups and has become very much involved in other aspects of running the Centre including helping to run the film club.  He is now an integral part of the team and a well-known and much liked member of the community at Regent Hall Corps.  
Last year James organised a fundraiser to sponsor the Christmas lunch and in March 2012 James' contribution to the Centre was recognised when he was awarded The Salvation Army's Social Service's Award - he won the category for Exceptional Service.  And next week, James will be lighting the Advent candle here at Regent Hall.
Jesus not only preached but his actions were eloquent –
-        loving and reaching out to people marginalised by diseases like leprosy
-        making the way clear for a man with a disability to come close to him
-        according dignity to women otherwise ignored or even dehumanised
-        and finding a place for those who were different and on the edge or outside of any kind of community or society
No matter how we're valued by our society and the world, through faith in the power of salvation through Jesus' life, death and rising to new life, every single one of us is loved by God.
REGENT HALL SONSGTERS
– EVERYWHERE
Have you ever stopped to think how God loves you?
COMMISSIONER
COCHRANE
Sermon Part 2
From the front of this Salvation Army Church building I look onto the busiest shopping street in Britain – never quiet, always crowded.  Each person is different - no two people looking, feeling, thinking or experiencing life identically.
The Christ who declared his purpose in Nazareth, then lived it, now identifies with every-one of us.  There is no human condition or circumstance with which he does not identify:
-        he partied and laughed, after all he first displayed his power at a wedding feast
-        he knew grief and wept, both for the loss of those he loved and for a people he feared would never understand him
-        he suffered pain and loss, personally and in his community
-        he experienced betrayal and rejection, by those closest to him and by those for whom he was prepared to lay down his life.
Even the closest followers of Jesus, his disciples, never fully understood his purposes.  He did not meet their expectations for they had anticipated a different kind of Saviour.  In his Nazareth reading he firmly elevated the significance and value of those who formed the underclass; he stood with those who 'had not' – while many of those who were closest to him consistently concerned themselves about which of THEM would be greatest when he established his kingdom.
Many of those who joined the crowds and who sometimes cheered him on when they heard him speak and saw him up close would one day turn against him or at least turn their backs on him – ignoring his call to follow a better way - a way which could turn the world upside down.
They all were looking for a king to slay their foes and lift them high' but the 19th Century Scottish minister George MacDonald so succinctly got it right when he continued in his beautiful carol, 'Thou cam'st a little baby thing that made a woman cry'. 
This is the surprising mystery of love of which we will sing often during this season.  That God should make himself like us – yes, 'tears and smiles', 'hopes and fears' – that in a glimpse of him we might learn how to be like him and live as he did.
John is 91, never married, has no family and relies heavily on the support of The Salvation Army in the west of Scotland.  He had a fantastic job and is a well-travelled man, who has cycled around the world.  But now, as he is older, he needs the Salvation Army day centre near his home more than ever.  In icy conditions, people like John cannot leave their homes for fear of breaking bones by slipping and falling.  He is not economically poor but the centre is a 'home from home' where he can stay active and build friendships.   On occasions food parcels provide a lifeline to people like John particularly during bad weather when older people face social isolation and often a deep sense of loneliness – like many others in these days who also need financial support.
Whatever our human circumstances - in sickness, isolation, prison, grief – God, in Christ, draws near.  He has us in his sight. We are his concern.  Sometimes his followers – in faithfulness to their calling as his disciples - will come to our aid with help and support.  This is how Christ's 'manifesto' is fulfilled.  This is how light is spread in a dark and needy world.  This is how hope becomes reality.  Remember, 'Christ is our hope… and hope does not disappoint'.
RICHARD LINK IN  TO PRAYERS
Let us now take time to pause and to pray.
At the beginning of our worship we were uplifted in our praise to Almighty God as we listened to the majestic and powerful song, All Rise.
But now we kneel before the cosmic Christ, and bow before you, our God and our King.
Prayer 1
Helen Wilson
O God, our Father, we are glad for this season of Advent and anticipation of the Christmas season.  For its light and laughter, its music and busyness, and for the prospect of reunion with family and friends.  We remember, however, that no adequate preparation had been made for the birth of Christ, and we meet here – with prayer and in penitence – to make special preparation, so that the real meaning of Christmas does not pass us by.
We are all too well aware of the many areas of war and conflict around us.  We pray that you will strengthen the efforts of all those working to bring a just peace to your world – particularly at this time in Egypt, Syria and between Israel and Gaza.
And, following recent tensions in Belfast, we pray that you will help to bring about a patience and understanding which will bridge the gap between divided opinions.
Prayer 2
Mark Walton
O God, our Father, we prayerfully think of the countless numbers who sit down to hunger three times a day, of those who sleep rough, of young and not-so-young people who have opted out of life's mainstream.  And, as we look around us, we pray for those who are oppressed, for those who are struggling to make ends meet, for the sick, and for those who grieve the loss of a loved one.
Through the birth of your son in innocence and humility, you reminded us to look for you in the faces of everyone we meet…. to keep watch for those unexpected moments when your light shines into our world.  We pray with eyes closed, but please help us to keep our eyes open for those crossing our paths that we may be able to help.
Lord's Prayer
Introduced by Helen Wilson
And so we rejoice in this season of Advent.  For the star of hope rising over the world's sorrows - who is Jesus Christ our Lord - and in whose name we offer our prayers, has taught us to say:
Our Father…
who art in heaven,
hallowed be thy name.
Thy kingdom come.
Thy will be done
on earth as it is in heaven.
Give us this day our daily bread,
and forgive us our trespasses,
as we forgive those who trespass against us,
and lead us not into temptation,
but deliver us from evil.
For thine is the kingdom,
and the power, and the glory,
for ever and ever.]
Amen.
RICHARD
LINK
And so now, as we sing our final triumphant hymn, 'In Christ alone my hope is found', we pray that in this expectant time of Advent we will all capture the excitement and hope in the coming of the Lord Jesus Christ, the Light, the Hope and Saviour of the world.
In Christ Alone
In Christ alone my hope is found,
BENEDICTION
RICHARD
RICHARD
We thank you for joining us here at Regent Hall this morning.
A final prayer and benediction –
Almighty God, give us grace to cast away the works of darkness and to put on the armour of light, now in the time of this mortal life, in which your Son Jesus Christ came to us in great humility; so that on the last day, when he shall come again in his glorious majesty to judge the living and the dead, we may rise to the life immortal, through him who is alive and reigns with you and the Holy Spirit, now and ever.
ALL:
Amen.
The Grace…
ALL:  The grace of our Lord Jesus Christ, the love of God and the fellowship of the Holy Spirit be with us all, evermore. Amen.
Band to play
The Kingdom Triumphant (HELMSLEY)
Closing announcement from Radio 4
Sunday Worship came from The Salvation Army's Regent Hall in central London.  The service was led by Major Richard Gaudion and the preacher was Commissioner William Cochrane.  The Regent Hall Songsters were conducted by Major John Martin and accompanied by pianist Elliot Launn.  The Regent Hall Band were conducted by Bandmaster Steven Hanover.  The producer was Simon Vivian.
Next week at 10 past 8, our Sunday Worship Advent Expectations series continues with a service live from Bradford Cathedral when the preacher will be Bishop Nick Baines.