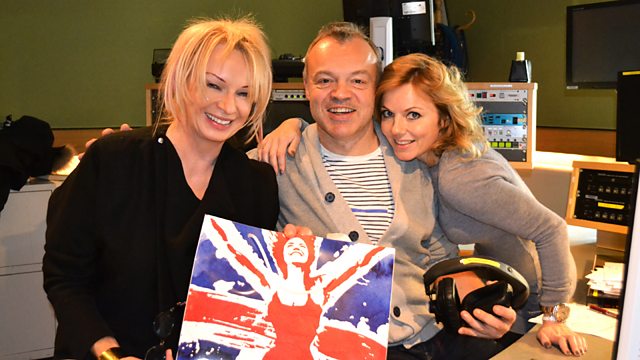 Antony Cotton, Geri Halliwell and Judy Craymer
This week, Maria McErlane gave The Bodyguard musical the thumbs up, Graham advised Bobbie Pryor not to appear on Countdown and we discovered that freezing fog is when water vapour is super-cooled and fills the air with small ice crystals.
Then, Graham discussed fake snow with Coronation Street's Antony Cotton who also revealed he really can sew and that his mum Enid appears in an episode of The League of Gentlemen.
Later, Mr. Norton became Chatty Spice as he met Ginger aka Geri Halliwell and super-producer Judy Craymer who came in to chat about the new Spice Girls' musical.
This week's I Can't Believe It's Not Better was so bad, we had to cut it short - we are talking about YOU Stefan Dennis - and over in Tune With A Tale corner, Gay in Caterham chose a fab track from Kirsty MacColl: He Never Mentioned Love.
Last on