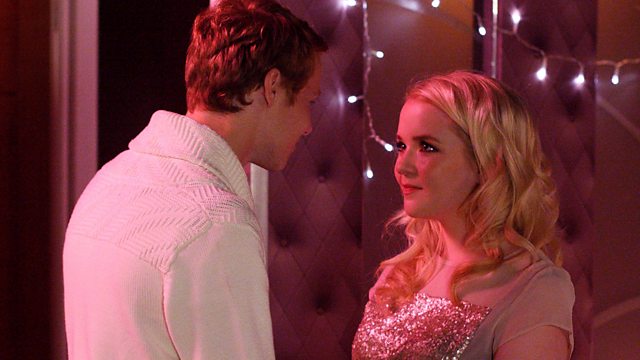 30/11/2012
Kat's lover leaves red roses in full view of the Vic. Kat desperately tries to persuade Alfie not to go to Germany then suggests she and Tommy go too. Alfie decides to take Fatboy. Kat pointedly kisses Alfie goodbye in front of the Branning brothers. Later, Kat finds a candle in her bedroom; light this and I'll come knocking. Kat throws the candle out the window, unaware Patrick's given Jean an identical one. Edgy, Kat closes the pub early. Jean reveals she's lit a candle for Tommy. Rushing upstairs, Kat hesitates then blows it out. Hearing noises, Kat creeps to the back door just as someone starts knocking…
Patrick tells Jay he's got to be strong. Worried he'll go to prison, Abi wants to prove she loves Jay by having sex with him. She prepares Booty with candles and fairy lights. When they kiss, Abi gets upset and Jay won't continue; he reassures and comforts her.
Derek instructs Tanya he wants Joey out of Cora's. Tanya's given short shrift when she tries to talk to her mum but Derek's insistent. Upset, Tanya has coffee with Sharon and after a comment from Lauren tells Sharon about her cancer and scan next week. Sharon takes Tanya to the Vic and agrees to be her maid of honour. Hoping to see Joey, Lauren visits Cora. They drink and Cora tells Lauren about Ava. Tanya comes to retrieve Lauren. When Joey walks in, Lauren flies at him. Tanya drags her home.
Carol's feeling surplus to requirements as Bianca re-asserts her position as the kids' mum. Bianca falls asleep while cooking, causing a fire. Playing the hero, Derek buys a takeaway. He's sympathetic; he couldn't sleep when he first left prison either. Bianca asks him to stay for dinner.
Sharon arranges work experience for Lola at Booty.
Last on
Credits
| Role | Contributor |
| --- | --- |
| Kat Moon | Jessie Wallace |
| Jean Slater | Gillian Wright |
| Patrick Trueman | Rudolph Walker |
| Jay Mitchell | Jamie Borthwick |
| Abi Branning | Lorna Fitzgerald |
| Lauren Branning | Jacqueline Jossa |
| Cora Cross | Ann Mitchell |
| Tanya Cross | Jo Joyner |
| Max Branning | Jake Wood |
| Derek Branning | Jamie Foreman |
| Bianca Butcher | Patsy Palmer |
| Carol Jackson | Lindsey Coulson |
| Whitney Dean | Shona McGarty |
| Sharon Rickman | Letitia Dean |
| Lola Pearce | Danielle Harold |
| Jack Branning | Scott Maslen |
| Alfie Moon | Shane Richie |
| Arthur 'Fatboy' Chubb | Ricky Norwood |
| Joey Branning | David Witts |
| Executive Producer | Lorraine Newman |
| Director | Tim Mercier |
| Writer | Peter McTighe |