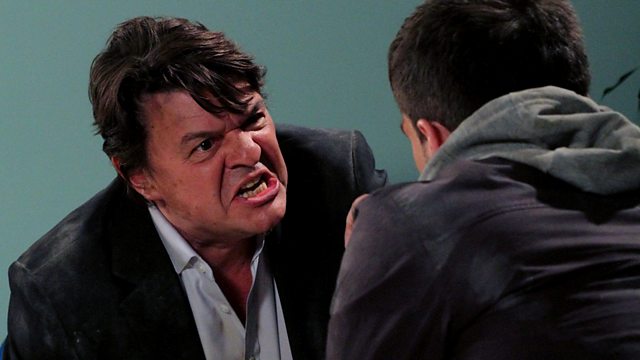 26/11/2012
Joey comes around, following the crash. Lauren is trapped in the car, panicked amidst blood, fire and paraphernalia. Meanwhile, Alice is leaving Derek's. He assures her he didn't hit Joey and insists she should phone Joey who'll confirm it. Alice calls, and is told instead about the accident. Derek rushes off, accidentally taking Alice's phone. Alice tells Max and Tanya about the accident. Joey pulls Lauren from the car, but the mounting smoke and mountains of junk obstruct their exit. 'Hero' Derek arrives and manages to pull them out just in time. There's a massive explosion. As the police arrive, Lauren admits to Derek she was driving and had been drinking. Derek tells Joey to say he was driving otherwise Lauren will go to prison. In hospital, a mad Max and teary-eyed Tanya arrive. Lauren gives her, false, statement but tells Tanya the truth about everything. Including Joey. Lauren makes Tanya promise not to tell Max. Meanwhile, Derek insists Joey must tell Alice Derek didn't hit him and that they're close now. Joey refuses, sparking an ultimatum from Derek: either Joey moves in, or Derek will tell the police Lauren was driving. Joey pretends not to care about Lauren, Derek forces him to prove it. Tanya tells Derek she knows what's going on. Derek threatens her: either she shows him familial love, or he goes to the police about Lauren. Joey breaks up with Lauren, lying that he never loved her. She's heartbroken.
Cora's furious that Tanya went to find Ava without her consent. They argue and Cora slaps Tanya. Cora tells Tanya that giving up Ava broke her heart and she's never loved anyone properly since. Cora leaves and tells Patrick she blames him too. Why did he tell Tanya? Their friendship is over. She throws Ava's beads down the sink.
Last on
Credits
| Role | Contributor |
| --- | --- |
| Lauren Branning | Jacqueline Jossa |
| Joey Branning | David Witts |
| Derek Branning | Jamie Foreman |
| Tanya Cross | Jo Joyner |
| Max Branning | Jake Wood |
| Alice Branning | Jasmyn Banks |
| Cora Cross | Ann Mitchell |
| Patrick Trueman | Rudolph Walker |
| PC Grant | Drew Edwards |
| Nurse Green | Tala Gouveia |
| Executive Producer | Lorraine Newman |
| Director | Lance Kneeshaw |
| Writer | Simon Ashdown |
Shocked Sharon confronts "K"