Rayleigh, Essex
Eric Robson chairs BBC Radio 4's horticultural panel programme from Rayleigh in Essex, where he is joined by Matt Biggs, Christine Walkden and Bunny Guinness, to field questions from gardening enthusiasts.
Produced by Howard Shannon
A Somethin' Else production for BBC Radio 4.
Q. When is the best time to take cuttings from a Photinia 'Red Robin'?
A. As Photinia is an evergreen, take semi-hardwood cuttings in September. Also, you could take new growth in the spring. Put the cuttings in a 50/50 mix of peat and grit and put polythene over the top. Rooting hormone could also be added. Alternatively, it might be easier to go to the garden centre!
Q. In what way will this year's wet weather have affected the Essex clay, and what can be done to improve it again?
A. Clay is one of the few materials that holds on to nutrients, so while nitrogen will have been lost, potash, phosphates and many other trace materials will still be there. Soil holding a lot of water will take longer to warm up in spring, so polythene and cloches could be useful in generating some heat.
Q. My 12-year-old Musa Basjoo (Japanese banana) has never flowered. Can the panel give any tips?
A. The banana is unlikely to flower and fruit in this climate, but can still be enjoyed as a foliage plant!
Q. Is the Mexican Sunflower Tithonia available to buy as a plant, or does it only come in seed form?
A. As a short-lived perennial, there are not many nurserymen who grow it on! To grow from seed, sow it in late April or May and keep on a windowsill.
Q. How can I encourage parsnips and carrots to grow well underground - the foliage looks very healthy, but the vegetables do not.
A. On a heavy site that is regularly manured, the plants may simply have too many nutrients! High nitrogen generally will encourage top growth rather than bottom growth. On the year you intend to plant, do not manure the site. In addition, Brassica, which are nitrogen demanding, could be planted alongside.
Q. I have a Tree Peony, purchased two years ago. It is 18in tall and has not grown in that time. What's gone wrong?
A. Some of the Japanese hybrids are slower growing, so patience is required!
Q. What is the panel's experience of using Mycorrhizal Fungi to aid root growth? Could it be of benefit when repotting Orchids, or rooting 'Kiki' Orchids?
A. This has most benefit when the natural soil is quite poor. For orchids specifically it is probably worth trying - though it may have no effect!
Q. My polytunnel-grown tomatoes were affected by blight this year. I removed the rotten tomatoes, but left the plant. Healthy tomatoes then went on to grow on the same truss. Why is this?
A. Blight relates to the growing conditions, the surrounding humidity and temperature. If conditions change sufficiently, they will not be conducive for blight.
Q. My wife feeds wild birds at one end of our garden, whilst I struggle to grow vegetables at the other end. Are we incompatible?!
A. If adequately covered, the vegetables should be OK. Try a large fruit cage or similar.
Last on
Aristocrats of the summer border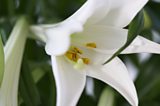 Matt Biggs meets a lily expert to find out more about one of the nation's favourite flowers for magnificent border displays.
Tree Lily 'Starburst'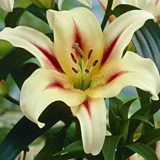 There are around half a dozen different types of lily shapes, from trumpet to star, which make lilies an exciting group of plants to grow.