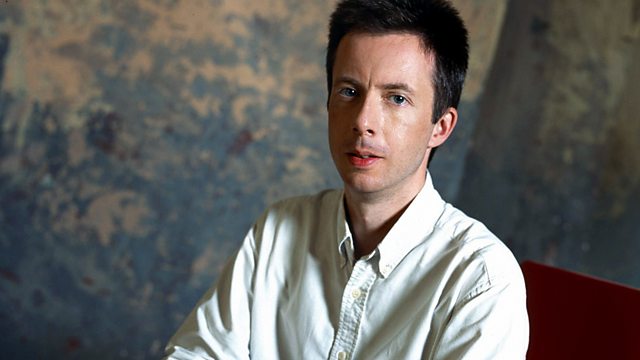 09/12/2012
John Shea explores the music of American composer Frederick Converse, well-known in the US before World War II, performed by the BBC Concert Orchestra & conductor Keith Lockhart.
1:01 AM
Converse, Frederick [1871-1940]
Song of the Sea - tone poem after Whitman
BBC Concert Orchestra, Keith Lockhart (conductor)
1:15 AM
Converse, Frederick [1871-1940]
Festival of Pan, op.9
BBC Concert Orchestra, Keith Lockhart (conductor)
1:33 AM
Converse, Frederick [1871-1940]
American Sketches - symphonic suite for orchestra
BBC Concert Orchestra, Keith Lockhart (conductor)
2:05 AM
Gershwin, George (1898-1937)
3 Preludes for piano
Donna Coleman (piano)
2:13 AM
Dvorák, Antonín (1841-1904)
Symphony No.9 in E minor (Op.95) 'From the New World'
Norwegian Radio Orchestra, Jan Söderblom (conductor)
3:01 AM
Stojowski, Zygmunt [1870-1946]
Cello Sonata in A major (Op.18)
Tomasz Strahl (cello), Edward Wolanin (piano)
3:27 AM
Rameau, Jean-Philippe (1683-1764)
Suite from Platée (Junon jalouse) - comédie-lyrique in three acts preceded by a prologue (1745 Versailles)
Concerto Copenhagen, Lars Ulrik Mortensen (director)
3:53 AM
Debussy, Claude (1862-1918)
Des pas sur la neige - from Preludes Book 1 No.6
Danae O'Callaghan (piano)
3:59 AM
Groneman, Albertus (1710/12-1778)
Trio Sonata in E minor
Gert Oost (organ)
4:06 AM
Beethoven, Ludwig van (1770 -1827)
Finale from the ballet music to "Prometheus"
Slovak Radio Symphony Orchestra in Bratislava, Ludovit Rajter (conductor)
4:14 AM
Lithander, Carl Ludwig [1773-1843]
Sonata for piano (Op.8 No.1) in C major, 'Sonate facile'
Juhani Lagerspetz (piano)
4:26 AM
Byrd, William (c.1543-1623) arr. Elgar Howarth
The Earle of Oxford's March (MB.28 No.93)
Tallinn Brass, Tarmo Leinatamm (conductor)
4:29 AM
Prokofiev, Sergey (1891-1953)
March - from 'The Love for Three Oranges'
San Francisco Symphony Orchestra, Michael Tilson Thomas (conductor)
4:31 AM
Moniuszko, Stanislaw (1819-1872)
String Quartet No.1 in D minor (1837-1840)
Camerata Quartet
4:47 AM
Biber, Heinrich Ignaz Franz von [1644-1704]
Sonata no.12 a 8 from sonatae tam aris, quam aulis servientes (1676)
Collegium Aureum, Georg Ratzinger (conductor)
4:53 AM
Dvorak, Antonin [1841-1904]
Song to the Moon from Rusalka (Op.114)
Yvonne Kenny (soprano), Melbourne Symphony Orchestra, Vladimir Kamirski (conductor)
5:01 AM
Copland, Aaron (1900-1990)
El Salón México
San Francisco Symphony Orchestra, Michael Tilson Thomas (conductor)
5:13 AM
Purcell, Henry (1659-1695)
Sonata No.9 for 2 violins and continuo in F major (Z.810) 'Golden'
Simon Standage (violin), Ensemble Il Tempo
5:20 AM
Schumann, Clara (1819-1896)
Scherzo for piano in D minor, Op.10 No.1
Angela Cheng (piano)
5:26 AM
Crusell, Bernhard Henrik (1775-1838)
Introduction et Air Suèdois (Op.12) for clarinet and Orchestra
Anne-Marja Korimaa (clarinet), Finnish Radio Symphony Orchestra, Osmo Vänskä (conductor)
5:37 AM
Strauss, Richard [1864-1949]
No.1 Waldseligkeit from 8 Lieder (Op.49); No.2 Ich schwebe from 5 Lieder (Op.48); No.2 Cacilie from 4 Lieder (Op.27)
Christianne Stotijn (soprano), Joseph Breinl (piano)
5:45 AM
Mozart, Wolfgang Amadeus (1756-1791)
Quartet in G major (K.387)
Quatuor Mosaïques
6:13 AM
Grieg, Edvard (1843-1907)
Concerto for double bass and orchestra (Op.36)
Gary Karr (double bass), Adelaide Symphony Orchestra, Patrick Thomas (conductor)
6:37 AM
Anonymous (17th century)
Ave Potentissima - Geistliches Konzert for soprano, 2 violins & basso continuo
Kamila Zajícková (soprano), Musica Aeterna Bratislava, Peter Zajícek (director)
6:45 AM
Huggett, Andrew (b. 1955)
Suite for accordion and piano - 4 pieces based on East Canadian folksongs
Joseph Petric (accordion), Guy Few (piano).
Last on