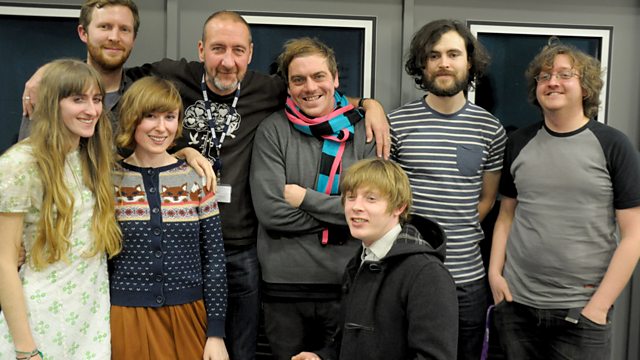 Milk and Biscuits
Milk and Biscuits in session tonight - not just a band more of a supergroup. The band is Matt Davies, Max Erle, Eleanor Whittle, Marc Beatty, Matt Twaites, Damo Waters and Rachel Dey.
The band is from Brighton, East Sussex. It started as a collaborative recording project by Matthew Davies and Max Erle in 2010. They released one Ep entitled Balcony Times in 2011.
Following this Milk and Biscuits developed into a live group consisting of friends from the bands Restlesslist, Brakes, The Electric Soft Parade, Muddy Suzuki, Do You Feel What I Feel Deer and Field Music. Together they have collaborated with the artist and poet Gary Goodman for their first full-length studio album, Spirit Nap due for release early in 2013.
White Noise will be the first single from this record. It will be released on Big Salad Records on the 12th of November 2012.
Last on