Add music you love and enjoy it with
Led Zeppelin - Early Days, Atlantic

Bruno Mars

Locked Out Of Heaven

(CD Single), Atlantic, 1

The Rolling Stones

Gimme Shelter

The Rolling Stones - Forty Licks, Abkco

KT Tunstall

Black Horse & The Cherry Tree

(CD Single), Relentless Records

Supertramp

Breakfast In America

The Very Best Of Supertramp, Polygram Tv

The Beatles - 1, Apple, 2

Long Wave, Frontiers Records, 4

Now 1984 (Various Artists), Now, 6

Oasis

The Importance Of Being Idle

(CD Single), Big Brother Records

Million Sellers Vol.18 - The Seventie, Disky

Yes

Owner Of A Lonely Heart

Top Gear 2 - Various Artists, Columbia

Imelda May

Big Bad Handsome Man

(CD Single), Universal Music Classics & Jazz, 1

Wham - The Best Of Wham!, Epic

The Golden Age Of Song, Rhino

The Golden Age Of Song, Rhino

Fantastic 70's (Various Artists), Sony Tv/Columbia

Fantastic 80's - 3 (Various Artists), Sony Tv/Columbia

Tom Jones

What's New Pussycat

Magic Moments: The Definitive Burt Bacharach Collection, Rhino

Paul Simon

Mother & Child Reunion

The Paul Simon Anthology (Disc 1), Warner Bros, 1

Moody Blues - Voices In The Sky, Threshold

(CD Single), Independiente

The Beatles

Norwegian Wood (This Bird Has Flown)

The Beatles: 1962-1967, Apple, 2

Signs & Signifiers, Rounder, 1

The Ultimate Party (Various Artists), Hit Label

100 Dance Hits Of The Eighties, Connoisseur

The Drifters

Kissin' In The Back Row Of The Movies

Jukebox 70's Hits -I Got The Music In Me, Old Gold
Pause for Thought

From Rev Rob Gillion, Rector of Holy Trinity Church and St Saviours.

The nights are really drawing in, for some it's been a very difficult couple of weeks with the floods and storms. Yet we have seen scenes of bravery, courage and heroism by friends and neighbours, even passing strangers who have rescued others from the floods. Care and compassion that's the Christmas spirit, and preparation can now begin for real.

Today we're opening are third door of the advent calendar. There are twenty four windows to open including Christmas Eve. I have sent a calendar to my Godson and bought one for myself and I've brought one for Noah and Eli to share. Each window reveals a picture and a bible verse. The first window was a candle and a verse from Isaiah 'the people who walk in darkness have seen a great light'. This is the first week of advent, the real preparation for Christmas.

There are of course so many people suffering in the darkness of their lives, and the advent calendar in its very first window suggests there is hope advent hope – a light at the end of the tunnel. Of course the light shines when we shine.

The next window speaks of peace. With all that is going on across the world, it's a gift we need to foster and encourage.

The third window is an angel offering a message of good news. The message is that love will overcome any darkness in the world. I believe the best definition of love is found in the scriptures 'God is love and those who live in love live in God and God lives in them'. So for me the way to bring light into the world is a partnership between ourselves and God.

So every day in Advent there is a window of surprise.

I'm not averse to the advent calendar's with chocolate in them either, but as we eat them let's remember to love our neighbour as ourselves and share the gifts we have been given. Love. Joy and Peace and chocolate!!
BBC Playlister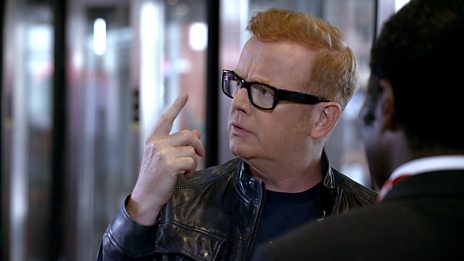 Chris has a song stuck in his head - but what is it? That's why he needs BBC Playlister!
500 WORDS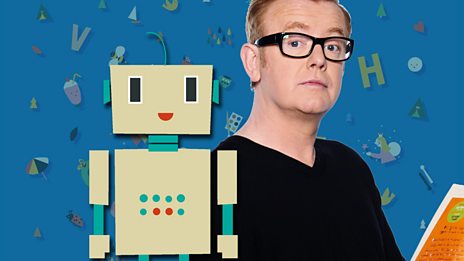 Featuring celebrity videos and top writing tips!
Podcast
Catch up with the latest Breakfast fun with Chris Evans. Hear the best stories and the biggest…