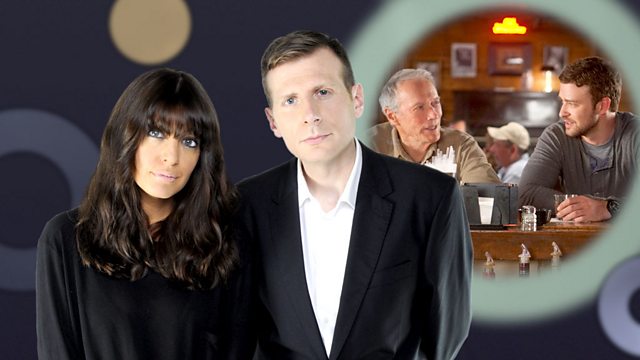 Claudia Winkleman and Danny Leigh review films including the latest big screen adaptation of Great Expectations. Plus Ben Wheatley's follow up to Kill List, the darkly comic Sightseers, and Clint Eastwood stars as a baseball scout in Trouble with the Curve.
Last on
REVIEW OF TROUBLE WITH THE CURVE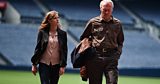 Danny: This is a film which has zero tolerance towards the unexpected. Clint Eastwood plays the same character he's been playing for the last 15 years. What this film does have is proper movie-star magnetism; it comes from Amy Adams, who sinks her teeth into this clichéd, cartoonish role, which brings it to life and makes it more or less watchable. The plot is this one giant celebration of doing things the old-fashioned way, and one giant middle finger to pretty much everything about the modern world. The script's idea of a cliff-hanger is quite a long opening scene in which Clint and his dodgy prostate attempt to answer the call of nature first thing in the morning—but that's not a nail biter in the real world.


Claudia: It is predictable, and I think if anybody else were playing these parts, you'd put it down to a Sunday afternoon schlocky movie where you'd not feel guilty getting up and making a toasted sandwich. However, Amy Adams is brilliant; I love Clint Eastwood in it; I like Justin Timberlake. So yes, you know what's going to happen, but I don't think it actually matters. I found it enjoyable and I think it ends well. Something else we mustn't forget is John Goodman is in it.
REVIEW OF SIGHTSEERS - CLAUDIA'S FILM OF THE WEEK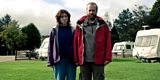 Claudia: I came out of the screening and punched the air. The two main characters, Chris and Tina, are absolutely brilliant. But also, I'm obsessed by the little ones, like Ian and Janice, and Tina's mum is fantastically portrayed. I wanted to see it again immediately. It's fantastic – you feel so bad for anybody they meet! Please go and see it.


Danny: There's no one better than Ben Wheatley at capturing the side of British life that's mundane, ridiculous, and deeply sinister. It's genuinely very dark and very funny. It's like Mike Leigh's 'Nuts in May' meets 'Natural Born Killers', in matching fleeces. There's something so intensely British about this film, it's almost like the natural heir to the Ealing Comedies - if Ealing had ever made a comedy involving crotch-less knitwear.

We should also talk about Steve Oram and Alice Lowe, who co-wrote the script and starred in it, because I think it's mostly down to them that the blackness and the comedy are kept in balance the whole time. And that's very rare; it's one of the things that make this a special film. I think the secret of Sightseers, is that for all the blood being cleaned off the caravan wheels, at heart this is a great romance. It's a horribly believable, deeply creepy love story. It's a great British comedy – embrace it.
REVIEW OF GREAT EXPECTATIONS
Claudia: I have to tell you I really enjoyed it. I know it's been adapted before; I thought it was directed really beautifully. I thought Ralph Fiennes was brilliant in it. I could watch Helena Bonham Carter talk about sausages, or maybe do an ad for home insurance. She's incredibly watchable. I really, really enjoyed it.


Danny: Great Expectations feels like a movie for tourists. It's a very familiar Dickens adaptation—familiar faces with mutton-chop whiskers and top hats. It's sturdy, a little bit stodgy, and aggressively traditional. I don't think there's anything wrong with it; I just think it's the kind of film that probably belongs in a commemorative tin.
In terms of performances, they've taken half the cast of Harry Potter and imported them into here. I actually think the pick of the bunch is Ewen Bremner, who's an underrated actor, who plays the small but pivotal role of Wemmick. Helena Bonham Carter turns it down, which is good, but you can't help but think her Miss Havisham is itching to freak out to a Kate Bush B-side. It makes life hard for itself, because there have been so many fantastic Dickens adaptations in the past (and Great Expectations by David Lean is one of them).
REVIEW OF THE HUNT - DANNY'S FILM OF THE WEEK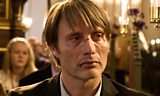 REVIEW OF THE HUNT - DANNY'S FILM OF THE WEEK
Danny: Given its subject matter, The Hunt could easily have been a heavy-handed TV movie. It's anything but. It's chilling, it's note perfect; it's actually one of the best films I've seen this year. It's deceptively calm at first, but when the false accusation that's at the heart of the story is made, everything spirals very quickly into a nightmare of a small-town witch-hunt. I defy anyone to see this film, and not to get physically caught up in it. It's the sort of movie that leaves you churned up—you feel it in your gut. Mads Mikkelsen won the Best Actor at Cannes for this and rightly so. But there are great performances dotted all over this film. Annika Wedderkopp plays the little girl, and she's great as well, and it's such an important role. A Danish actor called Thomas Bo Larsen is fantastic as Mads Mikkelsen's best friend. A really welcome comeback for Thomas Vinterberg.


Claudia: Some of it is almost unwatchable, like the scene in the supermarket and in the church… I don't want to spoil it for you, but you will be on the edge of your seat. Mads Mikkelsen is outstanding in it, and that's a big word. It is flawless.
YOU CAN SEE THE HUNT AT THE FOLLOWING LOCATIONS
From Nov 30:

CURZON SOHO
GATE NOTTING HILL
BRIXTON RITZY
ODEON PANTON STREET
EVERYMAN HAMPSTEAD
PICTUREHOUSE GREENWICH
PICTUREHOUSE HACKNEY
CINEWORLD WANDSWORTH
ARTS PICTUREHOUSE CAMBRIDGE
CINEMA CITY NORWICH
PHOENIX PICTUREHOUSE OXFORD
BROADWAY NOTTINGHAM
CINEWORLD NOTTINGHAM
WATERSHED BRISTOL
CINEWORLD CARDIFF
CHAPTER CARDIFF
CINEWORLD EDINBURGH
FILMHOUSE EDINBURGH
CINEWORLD GLASGOW RENFREW STREET
CINEWORLD ABERDEEN UNION SQUARE
MAUREEL SHETLANDS
CINEWORLD DUBLIN
LIGHTHOUSE DUBLIN
IFI DUBLIN
SCREEN D'OLIER ST DUBLIN
IMC DUN LAOGHAIRE


From Dec 7:
IPSWICH FILM THEATRE
PHOENIX EAST FINCHLEY
PICTUREHOUSE STRATFORD EAST
DUKE OF YORKS BRIGHTON
CINEWORLD BIRMINGHAM BROAD STREET
PICTUREHOUSE EXETER
PLYMOUTH ARTS CENTRE
LITTLE THEATRE CINEMA BATH
CORNERHOUSE MANCHESTER
PICTUREHOUSE FACT LIVERPOOL
SHOWROOM SHEFFIELD
TYNESIDE NEWCASTLE
ZEFFERELLIS AMBLESIDE
FILM THEATRE GLASGOW
BELMONT ABERDEEN
DUNDEE CONTEMPORARY ART

1 day special screening 13/12/12
READING SHOWCASE
NOTTINGHAM SHOWCASE
LEEDS SHOWCASE
DERBY SHOWCASE
BRISTOL SHOWCASE
BLUEWATER SHOWCASE
LEICESTER SHOWCASE
PETERBOROUGH SHOWCASE
TEESIDE SHOWCASE
Credits
| Role | Contributor |
| --- | --- |
| Presenter | Claudia Winkleman |
| Presenter | Claudia Winkleman |
| Presenter | Danny Leigh |
| Presenter | Danny Leigh |
| Series Producer | Jayne Stanger |
| Series Producer | Jayne Stanger |
| Executive Producer | Basil Comely |
| Executive Producer | Basil Comely |