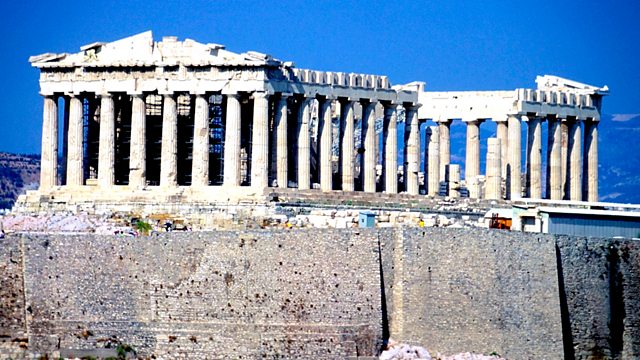 A Greek Odyssey
Words and Music on the theme of Greece, from classical antiquity to modern day Greece, gripped by austerity.
Sian Phillips and Timothy West read the classical poetry of Euripides and Homer, defiant verses against the 1960s dictatorship by Nobel prize winner George Seferis, and contemporary poetry about Greece and the financial crisis.
Lord Byron champions Greek independence in The Isles of Greece, Gerald Durrell relives his childhood in Corfu in My Family and Other Animals, and Louis de Bernieres depicts life in Kefalonia during World War II in Captain Corelli's Mandolin.
Modern day Greek poets have organised poetry demonstrations in Athens, and we hear Stamatis Polenakis' take on austerity in "Poetry Does Not Suffice".
Sian Phillips performs Medea's monologue from Euripides' tragedy and the great American-Greek soprano Maria Callas sings Medea in a famous live recording of Cherubini's opera from La Scala Milan in 1953, conducted by Leonard Bernstein.
Another world-renowned Greek soprano, Agnes Baltsa, sings traditional songs and we hear music played on the bouzouki and tambourin, native Greek instruments.
Mikis Theodorakis (born 1925) is one of the Greece's best-loved contemporary composers and his music for the film Zorba the Greek has achieved classic status. Iannis Xenakis is one of the most important post-war avant garde composers, who pioneered the use of mathematical models in music.
Music also includes Schubert's depiction of the Journey to Hades, Richard Strauss' opera Ariadne auf Naxos, Monteverdi's Orfeo, and Stravinsky's Greek ballet Apollo.
Producer: Timothy Prosser.
Last on