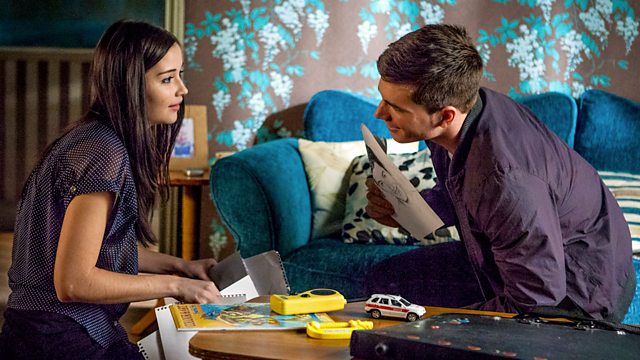 19/11/2012
Lauren's outraged on Joey's behalf when Max kicks him out; Derek insinuates Max is right not to want Joey around Lauren with his reputation. Lauren helps Joey flat search. Joey thinks she makes a drama out of everything because she's bored. Lauren declares she sketches, and nervously shows him her drawings; Joey's touched to discover a portrait of him. He tucks Lauren's hair behind her ear. Both pull away, but are unable to resist, soon kissing and shedding their clothes.
Max is annoyed when Derek claims it was his idea to evict Joey, tries to take out a business loan and appeals to Phil to supply more cars. Later, he refuses to kick Joey out, and gives Derek a down payment in cash.
Tanya laboriously searches the internet for Ava Hartman. Poppy sympathises about families and mentions her sister, Tansey. Tanya brings Cora flowers and asks about Ava, claiming she wants to visit her grave. Cora clams up. Resuming her search, Tanya finds Ava Hartman listed as a Deputy Head Teacher. In the Vic, Tanya enthuses to Patrick she's made an appointment with Ava and sets out determinedly to meet her sister.
Billy asks for work at the salon. Phil's surprised by a phone call from Ritchie and plots to send Billy away on a job. Billy's reluctant until Phil offers to have Lola to stay. Phil fakes a call from Ritchie; Alexa's dropped the allegations. Phil advises Lola not to tell Billy. Lola's overjoyed and assumes Lexi's coming home but Trish reports it won't affect Lexi's care plan. Phil takes over bathing Lexi, warning Lola his house isn't her home.
Poppy coaches Fatboy on chatting up Sylvia, the girl from the chemist. Her smile fades when watching them together in the Vic.
Last on
Credits
| Role | Contributor |
| --- | --- |
| Tanya Cross | Jo Joyner |
| Patrick Trueman | Rudolph Walker |
| Lauren Branning | Jacqueline Jossa |
| Joey Branning | David Witts |
| Derek Branning | Jamie Foreman |
| Max Branning | Jake Wood |
| Cora Cross | Ann Mitchell |
| Lola Pearce | Danielle Harold |
| Phil Mitchell | Steve McFadden |
| Billy Mitchell | Perry Fenwick |
| Arthur 'Fatboy' Chubb | Ricky Norwood |
| Poppy Meadow | Rachel Bright |
| Trish Barnes | Tessa Churchard |
| Executive Producer | Lorraine Newman |
| Director | Ian White |
| Writer | Carey Andrews |