Sausage lichen; Turkmenistan; hen harriers
A very unusual lichen features in this week's programme. Brett Westwood travels to the Brecon Beacons to see the string of sausages lichen. While it is very noticeable in the countryside as it hangs from tree branches as long thin strands like uncombed and sparse straggly hair, its name comes from swellings that occur along the strands at intervals which give the appearance of sausages. Having declined due to industrial pollution, this lichen is now being spotted more regularly in locations in south Wales and there are hopes its fortunes are improving as it spreads east.
Mark Day has been to Turkmenistan this year as part of an international group of scientists invited by the Turkmenistan government to take part in expeditions and an international science conference to explore the Koytendag Nature Reserve. The Koytendag Nature Reserve (formerly known as the Kugitang Nature Reserve, established in 1986) is located in the Lebap province. The globally endangered markhor, a large wild mountain goat, is found in the reserve. The hope is that by exploring the area and its wildlife and through international co-operation, the area will gain worldwide recognition and protection for its unique landscapes, and the wealth of rare plants and animals found in Koytendag as well as bringing benefits to local communities through tourism. Amongst the high peaks, deep canyons and gorges Mark enjoys the sight of different species of vultures wheeling overhead and discovers important botanical sources of mulberry, wild almonds and pistachios.
Also in the programme - News from around the world with our regular news reporter, Kelvin Boot. And we'll update you on the activities of the Open University's iSpot.
Presenter: Brett Westwood
Producer: Sheena Duncan.
Last on
Usnea articulata - String of Sausage Lichen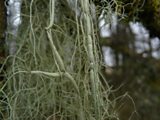 The String-of-Sausage Lichen (Usnea articulata) is one of the few readily identifiable beard lichens when well grown. Recognisable by the straggly hair like appearance, its stems can reach up to a metre in length, with swellings at intervals giving it a sausage-like appearance.
Formerly found in the English Midlands and the north-east of England, the lichen's sensitivity to sulphur dioxide caused it to become extinct during the industrial revolution. It's now found mainly in the south-west of England and west Wales, but in recent years has been spotted in South Wales and is now spreading east.