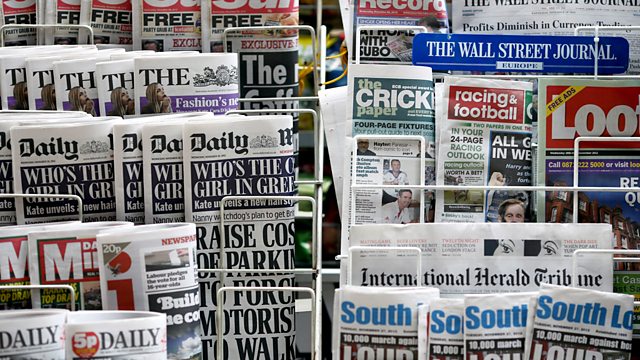 29/11/2012
Morning news and current affairs, with James Naughtie and Justin Webb, including:
0810
Lord Justice Leveson will publish his report today. Chris Jefferies, who was wrongly arrested for the murder of Joanna Yates, and won damages from a number of newspapers calls for a stronger, independent press regulator with investigative powers. George Eustice, a Conservative MP and one of the 40 MPs who have signed a letter urging the prime minister to implement all the Leveson recommendations, and David Blunkett, the former Labour home secretary who is part of a cross-party group arguing against any kind of statutory regulation, analyse what will come of the publication of the report.
0820
The famous Barbary Macaque monkeys of Gibraltar are starting to bite people and get cross when they do not get enough chocolate. Dr John Cortes, Gibraltar's minister for the environment, explains how the monkeys are being returned to nature.
0824
Germany is a country which is changing, with many tensions as its composition morphs through immigration. Khu Pham was born in Berlin in 1982, the daughter of immigrants from Vietnam who fled the war there. She has written a book called The New Germans. She explains how many Germans still do not believe she is one of them.
0833
There are fears that the Egyptian revolution is being hijacked. The BBC's Cairo correspondent, Jon Leyne, reports from Tahrir Square on whether Egypt is heading in the same post-revolution direction as Iran.
Last on