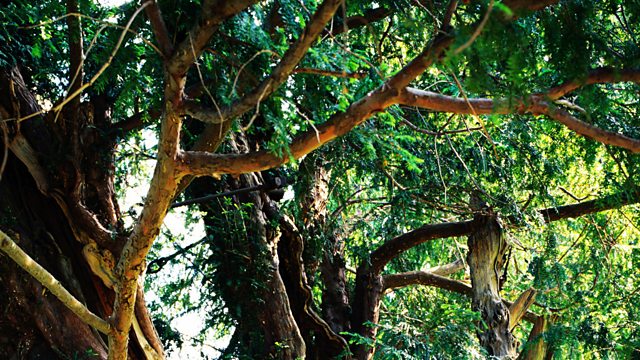 Inside a Tree
Mark Tully asks why trees are so important to us.
Why is it that, from childhood onwards, we feel the urge to climb inside their hollow trunks or up into their branches? How does the world seem different from inside a tree?
From Herman Hesse to Seamus Heaney, writers, poets and composers have been inspired by the power and grandeur of trees. The Hindu sacred text, the Bhagavata Purana, celebrates the shade cast by trees and the many uses of their bark, wood, leaves and sap. Their age and majesty inspires respect and, as the Dalai Lama said, "trees echo the Buddha's words expressing his fundamental teaching of impermanence".
With professional tree climber James Aldred, Mark visits the ancient yew tree which stands in the corner of St George's Churchyard in Crowhurst, Surrey. Together they climb inside its hollow trunk to contemplate the protective, comforting presence of a living organism which has stood in one place for four thousand years.
James has climbed hundreds of trees all over the world, even slept inside them. He describes the connection he makes with them and the way each tree he meets seems to have a distinct personality. Being inside a tree is the closest he comes to prayer.
Producer: Jo Coombs
A Loftus production for BBC Radio 4.
Last on