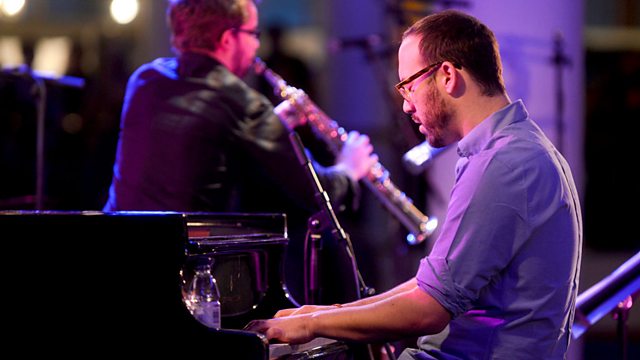 Jazz in the Round at the 2012 London Jazz Festival
Jez Nelson presents a special edition of his monthly Jazz in the Round event as part of the London Jazz Festival.
Jazz in the Round celebrates the incredible breadth of contemporary jazz and improvised music, bringing together bands you might not usually expect to sit on the same billing. This time is no different, with contrasting sets by British, European and American musicians. Israeli pianist Yaron Herman is a rising star whose latest quartet, featured here, filters his Middle-Eastern heritage through Latin and post-bop sounds. Chris Dave, meanwhile, is one of the most in-demand jazz, R&B and hip-hop drummers around, performing with everyone from pop mega-stars Beyoncé and Adele to the jazz/nu-soul Experiment outfit led by pianist Robert Glasper. Whatever the genre, he lights up the stage with an eccentric approach to the kit and an amazingly elastic rhythmic feel, so this set with his Drumhedz outfit should be a real treat! Also on the programme, a new band - London-based six-piece Fofoulah, led by Loop Collective drummer Dave Smith, which blends modern African praise song and Gambian sabar drumming with electronic grooves.
Last on
Featured in...
Find out what's coming up on Radio 3 from this year's London Jazz Festival.