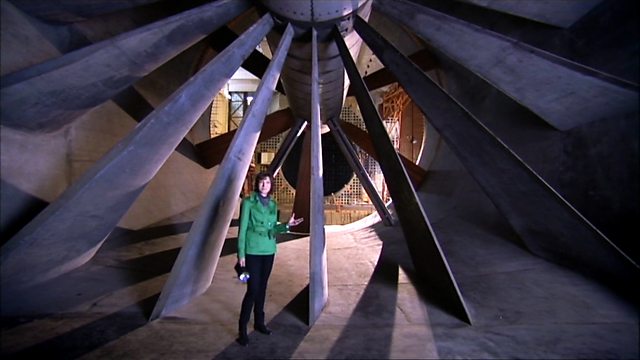 Fiona Bruce and the team take a rare opportunity to set up for a Roadshow inside the Farnborough wind tunnels, the site of important aeronautical research in the 20th century.
Last on
More about first edition books
At Farnborough, resident book specialist Rupert Powell set Fiona a very tricky task indeed: to work out which of these three modern first edition books is the basic and worth £150, which is better at £1500 and which is the best at a whopping £15,000!
What to look for?
Firstly we should point out that none of these books have dust jackets (we deal with that below).
There are three main things to look out for:
Rarity – when an author is first starting out the publisher usually only does a small print run of the first edition as they don't know how it will sell. As a result there are fewer around and they become more sought after.
Popularity – all three books here have hugely popular stories characters; Harry Potter, Sherlock Holmes and James Bond. This will make the books more appealing.
Condition – as with most things, good condition is really important. Books are made to be read and enjoyed so it's rare to get ones in mint condition. Those that are, are worth more.
So which is which?
(See picture gallery)
BASIC – Goldfinger- this isn't Ian Fleming's first novel so the publishers would have known he was popular and would have had a big print run made. This means there are a lot of them around so it's only worth about £150.
BETTER – Hound of the Baskervilles is one of the most famous Sherlock Holmes novels. It will appeal to collectors of detective novels as well as those who collect classics. However it does come up for auction fairly regularly so it's worth about £1500.
BEST – Everyone is now so familiar with the Harry Potter books but when this was first published, JK Rowling was unknown and only 500 copies were printed. A majority of those went to libraries so were well read and stamped. It's rare to find one in good condition but when you do, they're worth about £15,000.
What a difference a dust jacket makes!
As we mentioned, none of these books have dust jackets. But would the value change if they did? The answer is a resounding YES!
For 20th Century first editions, the dust jacket is generally about 90% of the value. Dust jackets are there to protect the book but they can also be decorative objects in themselves. As ever condition of the dust jacket is very important.
Goldfinger – with a dust jacket this book would be worth about £1500.
Harry Potter – With a dust jacket this book would be worth very little. The first editions were released without a dust jacket so it would either be a fake or a later edition.
Hound of the Baskervilles – There are only three known copies with dust jackets and only one has ever come up for auction so they are incredibly rare. If one came up for sale now, you would probably have to pay £100,000 - £150,000 for a copy.
Did you know?
JK Rowling created seven handwritten and illustrated copies of The Tales of Beedle the Bard which is the children's book that features heavily in Harry Potter and the Deathly Hallows. Six were given away but one copy was put up for auction in 2007. It made an astonishing $3.98 million (that's over £2million!)
First Edition Harry Potter?
There is a specific set of things to check for if you think your Harry Potter could be one of that first 500.
On the back of the title page, the numbers at the bottom must read "10 9 8 7 6 5 4 3 2 1". The lowest number indicates the print run - so a number 1 will indicate your book is from the first run.
On the back of the title page, the cover illustration will be printed as Thomas Taylor1997 - without a space between 'Taylor' and '1997'. The copyright will be 'Joanne Rowling' not 'JK Rowling'.
On page 53 of the book, on Harry's school shopping list, the words '1 wand' will be included twice - once at the beginning and once at the end of the list. This was an error which was corrected in the second editions.
If your Harry Potter meets all these criteria, get in touch - antiques.roadshow@bbc.co.uk. 
Credits
| Role | Contributor |
| --- | --- |
| Series Editor | Simon Shaw |
| Presenter | Fiona Bruce |
| Producer | Michele Burgess |