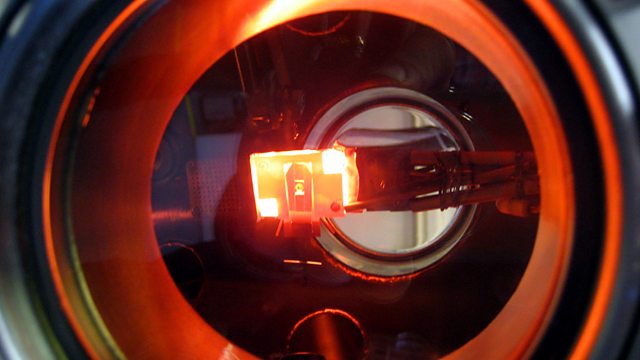 20/11/2012
Adam Walton meets the Aberystwyth University scientists who are working on the new 'miracle material' graphene, which could transform electronics and materials science.
Last on
Graphene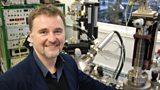 Imagine a material two hundred times stronger than steel yet as flexible as rubber, a form of carbon so conductive it could replace silicon and transform computing. Graphene is the super-strong, super-flexible 'miracle material' which has set the world of science alight.
Since a team at Manchester University first managed to create graphene in 2004 (using a lump of graphite and some sticky tape!) there's been a lot of interest in graphene and its potential applications. Its strength, flexibility and electrical conductivity could pave the way to  computers so thin you could fold them up  - or even wear them!
In this week's Science Cafe Adam visits Aberystwyth University's Institute of Mathematics and Physics to meet its Director, Prof. Andy Evans. He and his Ph.D student Simon Cooil are developing a new way of making graphene from diamond. In their laboratory Andy and Simon show Adam how they heat diamond in a vacuum and then use an iron catalyst to 'shave' layers of graphene off the diamond. 
Adam also speaks to Dr. Owen Guy from Swansea University who's developing a use for graphene in biosensors, small, ultra-sensitive devices which could be used to detect warning signals of cancer from a saliva or urine sample.
Links
BBC Click: Is Graphene A Miracle Material?
BBC Science: How Could Graphene Transform the Future?