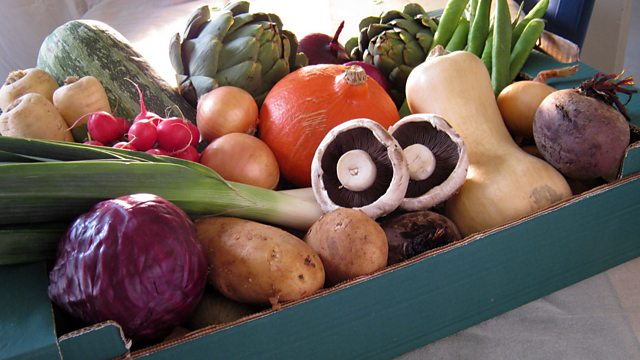 21/11/2012
Four savoy cabbages, three turnips, two parsnips and a beetroot! If you were faced with these in a veg box this week, what would you do with them? Don't struggle with seasonal veg at this time of year - let Pennie Latin and the team inspire you as they play "Ready Steady Veg Box" with the help of chef and food consultant Christopher Trotter.
Jane Gray runs Let's Eat Local in and around Moffat. Inspired by a community run veg box scheme in Hackney, Jane talks about how Let's Eat Local uses only seasonal produce from local producers in the area.
Bronwen Livingstone visits the Broken Biscuits Cookery Club - a brand new community food project in Glasgow which aims to provide affordable cookery demonstrations and classes for families. Tom Shields reveals how the idea for the BBCC came about and describes how he hopes the scheme might expand in the future.
Chef John Quigley makes a simple chicken casserole for this week's Takeaway Recipe.
Last on