Consumer minister Jo Swinson takes your questions
Got a gripe? The Consumer Minister Jo Swinson responds to your questions.
Some bank customers are so proud of the pictures on their new personalised credit cards that they can't wait to share them on Facebook. Bad idea. Find out why you should stop doing it immediately.
And just imagine the scenario... It's a rainy night. You're driving. You get a puncture. But when you pull over and delve inside the boot, there's no spare tyre! Guess what? More and more car companies are selling vehicles without spare tyres. We find out why and if there's anything you can do about it.
Last on
Eurospar, Dolgallau - You and Yours Best Local Retailer finalist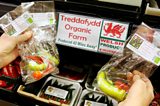 Conrad Davies' Eurospar in Dolgellau mixes standard supermarket fare with an amazing range of local Welsh produce from chillis to Cardigan Bay mussels.  Judges Simon Parkes and Arthur Potts Dawson visit the north Wales store to see if it has what it takes to win the You and Yours Best Local Retailer category.