Add music you love and enjoy it with
Pulp

Common People

(CD Single), Island, 5

Bruno Mars

Locked Out Of Heaven

(CD Single), Atlantic, 1

Tony Christie - Definitive Collection, Universal

The Old Skool Reunion (Various Artis, Global Television

The Who

I Can't Explain

The Godfathers Of Britpop, Polygram Tv

Abbey Road, Parlophone, 17

Kylie Minogue - Rhythm Of Love, Pwl Records

Jeff Wayne's Musical Version Of War Of The Worlds, Sony

(CD Single), Dramatico, 2

The Drifters

There Goes My First Love

Very Best Of Ben E.King & The Drifters, Global Television

Kylie Minogue

On A Night Like This (The Abbey Road Sessions)

(CD Single), Parlophone, 2

Rip It Up (Various Artists), EMI

Hits Of 1971 & 1972 (Various Artists), Polydor

Kylie Minogue

Can't Get You Out Of My Head

(CD Single), Parlophone

The Cure

Friday I'm In Love

True Brit (Various Artists), Polygram Tv

Donna Summer

Hot Stuff

The All Time Greatest Movie Songs, Columbia/Sony Tv

Fantastic 80's Disc 2 (Various Artis, Columbia

Long Wave, Frontiers Records, 4
Pause for Thought

From Canon Ann Easter

This is an action-packed week, celebrating all things James Bond on Radio 2 and then today is the forty ninth anniversary of the very first episode of Doctor Who.

I have seen most of the James Bond films but I haven't really seen many episodes of Doctor Who and that's partly because I could get on with making the tea while the children watched it - lined up on the settee, they'd be hiding behind the cushions, eyes like saucers, hardly daring to breathe.

They say that lots of people were watching when the first episode of Doctor Who was broadcast because it was the day after the assassination of President Kennedy but no doubt once they'd started watching the programme, it was so exciting that they couldn't bear not knowing what happened next. Certainly Dominic, my younger son, was devoted to it; he had all the Dr Who videos and very long scarves and even went to a convention once.

But I also didn't watch because I'd say I prefer real life. I don't like that extreme escapism which moves from historical drama one week to science fiction the next, and I think there are quite enough real things to frighten the life out of me without looking for more.

And yet, of course, stories have a way of telling us truths in a more profound and moving manner than any of the kitchen sinky stuff that I like. Doctor Who, although he regenerates and transmogrifies and can go anywhere or any time, always stays the same at heart – and I'm told he has two hearts, so doubly the same! He is very anti-violence, much preferring to talk or think his way out of trouble, and his character and skills are entertaining and attractive in themselves; he's compassionate and can overcome anything - even the Daleks.

In a very exciting and graphic way, Doctor Who shows us that, in the end, good is always better than evil and love is most important which ever incarnation you're in. And I'll go with that.
BBC Playlister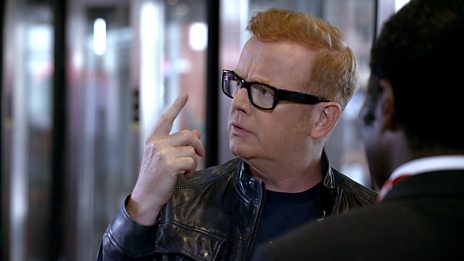 Chris has a song stuck in his head - but what is it? That's why he needs BBC Playlister!
500 WORDS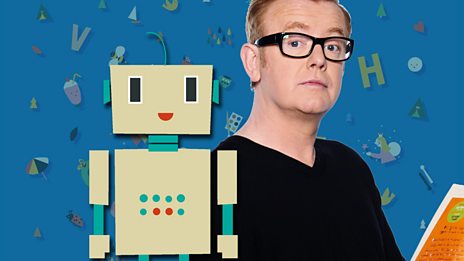 Featuring celebrity videos and top writing tips!
Podcast
Catch up with the latest Breakfast fun with Chris Evans. Hear the best stories and the biggest…