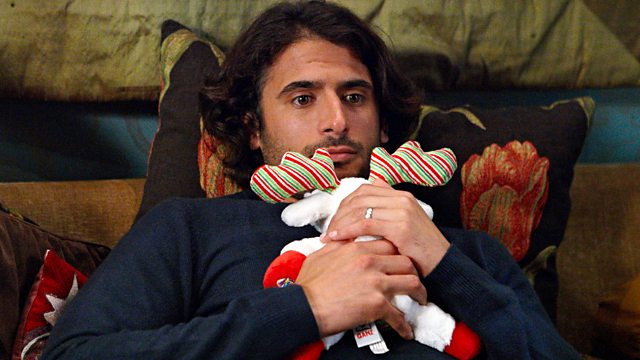 12/11/2012
Poppy helps a melancholy Cora light a candle; she abruptly blows it out. Rainie's sent Tanya a wedding card. Tanya's outraged and demands her phone number. Cora admits she lied about seeing Rainie, got drunk and binned the bridesmaid's dress. Tanya's furious. Mr Lister donates a bag for the charity shop. Cora snaps at a distressed Lola to give up on Lexi. Later, she bakes a birthday cake, telling Patrick it should have forty eight candles on it for her baby. Patrick tries to console her. Cora confesses she gave away her baby, Ava Hartman, but told everyone she died.
Kat contemplates her mum's engagement ring. She's keen to take Alfie out. Alfie can't get cover but organises a girls night with Sharon and Tanya. In R&R, Kat's awkward as Sharon and Tanya gossip about Max and Jack and clams up when they question her about Alfie.
Alfie joins the Branning brothers for drinks in the Vic. The men joke women are made to be lied to; the evening turns sour when Jack and Max taunt Derek about Jackie Bosch. Tanya walks a drunken Max home. Lauren suggests looking Jackie up on the internet.
Lucy urges Christian to wave Yasmin off. Syed sadly packs Yasmin's things, keeping back her toy moose. After overhearing Lola worrying about Lexi, Christian determines to stop Amira taking Yasmin and wants the Masoods to back him up. Amira insists he can visit in Birmingham. Tearful, Christian and Syed kiss Yasmin goodbye. Zainab consoles Syed while, at the Beales', Christian rings Jane.
Ray cancels Alice's lesson. Whitney and Tyler tease Alice has a crush. Joey's humiliated when Alice floors him with a move Tyler teaches her; Lauren mocks Joey in front of Whitney and Lucy but is secretly concerned. Joey sees through her act. Lauren hopes they can be friends.
Last on
Credits
| Role | Contributor |
| --- | --- |
| Cora Cross | Ann Mitchell |
| Patrick Trueman | Rudolph Walker |
| Alfie Moon | Shane Richie |
| Kat Moon | Jessie Wallace |
| Max Branning | Jake Wood |
| Tanya Cross | Jo Joyner |
| Lauren Branning | Jacqueline Jossa |
| Derek Branning | Jamie Foreman |
| Jack Branning | Scott Maslen |
| Sharon Rickman | Letitia Dean |
| Christian Clarke | John Partridge |
| Zainab Khan | Nina Wadia |
| Masood Ahmed | Nitin Ganatra |
| Amira Masood | Preeya Kalidas |
| Lucy Beale | Hetti Bywater |
| Joey Branning | David Witts |
| Alice Branning | Jasmyn Banks |
| Tyler Moon | Tony Discipline |
| Whitney Dean | Shona McGarty |
| Lola Pearce | Danielle Harold |
| Poppy Meadow | Rachel Bright |
| Mr Lister | Nick Wilton |
| Executive Producer | Lorraine Newman |
| Director | Ian White |
| Writer | Jeff Povey |
If you want something done...