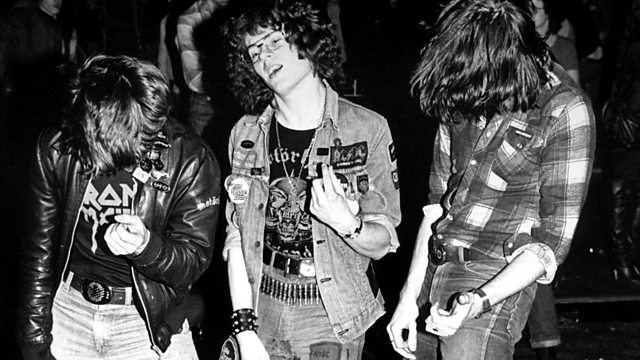 Paranoid - The Birth of Heavy Metal
An argument has long raged as to what was the very first Heavy Metal track: Led Zep's Communication Breakdown? The Kinks' pair of singles All Day And All Of The Night and You Really Got Me? What about Link Wray's Rumble? All paved the way, but one track managed to coalesce all of the facets of what was to become Heavy Metal. The track was Black Sabbath's Black Sabbath. And - from the ominous tolling bell, through the guitar's use of the flattened fifth (a dissonant interval that was banned by the medieval church), the horror show lyrics evoking Satan, to the accelerated riff at the end -The track managed to feature all of the elements that would become clichéd, but at the time were new and terrifying.
The track was groundbreaking but it was Paranoid that was to become Sabbath's most iconic - literally thrown together during the final half an hour of a recording session. With its classic Iommi pull-off/hammer-on riff, Ozzy's anguished lyric and its propulsive brevity, it was catchy, despite having no obvious chorus. It's a textbook example of Metal.
This music was very much the product of the UK, but was even more localized than that: it was born in the West Midlands. Judas Priest's Rob Halford and Diamond Head's Brian Tatler have both said the sound of the area's heavy industry - the foundries and metal-works - informed their sound. They literally grew up surrounded by the sound of heavy metal, it was in the air, an inescapable part of the surroundings. Another facet of that industry had a more direct, visceral effect on the music of Sabbath. On his last day of work before turning pro as a musician, guitarist Tony Iommi lost the fingertips on his fretting hand to a steel cutting machine. As a result, Iommi tuned his guitar down three semi-tones (so the strings would be slacker and less painful on his mangled fingers). This low tuning made Sabbath's music all the more gut-churning and gloomy.
Metal is, of course now a worldwide phenomenon. It became hugely popular in California but there's no way Heavy Metal could have originated in LA. The blueprint for Californian metal -arguably created by Van Halen - (originally called Rat Salade in tribute to a Sabs song), was worlds away from the British version. It sounded like sun, sand, surf and sex. Black Sabbath most certainly did not. It was too grim, too industrial: gothic music for a gothic environment. Other British Metal came from equally tough places - Def Leppard from Sheffield, Saxon from Barnsley, Iron Maiden from the East End Of London and Raven and Venom from Newcastle. Of course The Tygers Of Pan Tang bucked the trend coming from picturesque Whitley Bay... but then the cognoscenti would tell you that they were never a proper metal band!
Heavy Metal became one of Great Britain's greatest cultural and financial exports to the world. Def Leppard sold over 20 million copies of Hysteria. Iron Maiden bestrode the globe like a rock colossus (and still do). And not for nothing did Judas Priest title their 1980 album British Steel. The little band from Aston, Birmingham has inspired millions of kids from Alice Springs to Zagreb.
Last on