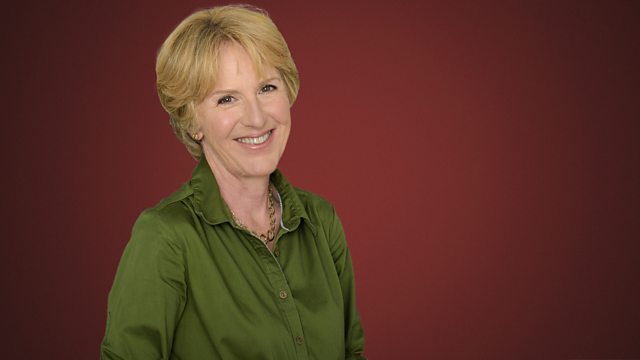 18/11/2012
Pianist Stephen Hough in a performance of Saint-Saëns's Fifth Concerto from the 2011 BBC Proms with the BBC Philharmonic and Gianandrea Noseda, plus works by Beethoven and Liszt.
1:01 AM
Beethoven, Ludwig van [1770 -1827]
Symphony no. 4 (Op.60) in B flat
BBC Philharmonic, Gianandrea Noseda (conductor)
1:34 AM
Saint-Saëns, Camille [1835-1921]
Concerto for piano and orchestra no. 5 (Op.103) in F major "Egyptian"
Stephen Hough (piano), BBC Philharmonic, Gianandrea Noseda (conductor)
2:00 AM
Massenet, Jules [1842-1912]
Crepuscule, arr. Stephen Hough
Stephen Hough (piano)
2:02 AM
Liszt, Franz [1811-1886]
A Symphony to Dante's "Divine comedy" for female voices and orchestra (S.109)
BBC Philharmonic, Gianandrea Noseda (conductor)
2:44 AM
Bach, Johann Sebastian (1685-1750)
Flute Sonata in A major for transverse flute (BWV.1032)
Bart Kuijken (flute), Gustav Leonhardt (harpsichord)
2:58 AM
Britten, Benjamin [1913-1976], [text by W H Auden]
When you're feeling like expressing your affection - song for voice and piano
Andrew Kennedy (tenor), Christopher Glynn (piano)
3:01 AM
Kodaly, Zoltan [1882-1967]
Missa brevis (... tempore belli)
Alice Komároni (soprano), Ágnes Tumpekné Kuti (soprano), Pécsi Kamarakórus, István Ella (organ), Aurél Tillai (conductor)
3:35 AM
Mozart, Wolfgang Amadeus [1756-1791]
Sonata in A major K.526 for violin and keyboard
Geir Inge Lotsberg (violin), Einar Steen-Nøkleberg (piano)
4:03 AM
Handel, Georg Frideric [1685-1759]
The Arrival of the Queen of Sheba (from "Solomon", HWV.67)
Australian Brandenburg Orchestra, Paul Dyer (conductor)
4:06 AM
Farkas, Ferenc [1905-2000]
5 Ancient Hungarian Dances for wind quintet
Tae-Won Kim (flute), Hyong-Sup Kim (oboe), Pil-Kwan Sung (oboe), Hyon-Kon Kim (clarinet), Sang-Won Yoon (bassoon)
4:16 AM
Barriere, Jean [1705-1747]
Sonata No.10 in G major for 2 cellos
Duo Fouquet
4:26 AM
Nielsen, Carl [1865-1931]
Overture to Maskerade (FS.39)
Bergen Philharmonic Orchestra, Leif Segerstam (conductor)
4:31 AM
Rosenmuller, Johann [c.1619-1684]
De profundis - Psalm 129 (130)
Johanna Koslowsky (soprano), David Cordier (countertenor), Gerd Türk (tenor), Stephan Schreckenberger (bass), Cantus Cölln, Konrad Junghänel (director and lute), Carsten Lohff (organ)
4:44 AM
Chopin, Fryderyk [1810-1849]
Fantaisie-impromptu in C sharp minor Op.66 for piano
Anastasia Vorotnaya (piano)
4:49 AM
Glinka, Mikhail Ivanovich [1804-1857]
Capriccio brillante on the theme 'Jota Aragonesa' (Spanish overture no.1)
Bratislava Slovak Radio Symphony Orchestra, Ondrej Lenárd (conductor)
5:01 AM
Corelli, Arcangelo (1653-1713)
Concerto Grosso in F major (Op.6 No.9)
The King's Consort, Robert King (director)
5:10 AM
Ravel, Maurice (1875-1937)
Tzigane - rapsodie de concert pour violon et piano
James Ehnes (violin), Wendy Chen (piano)
5:21 AM
Langgaard, Rued (1883-1952)
3 Rose Gardens Songs (1919)
Danish National Radio Choir, Kaare Hansen (conductor)
5:32 AM
Bach, Johann Sebastian (1685-1750)
Toccata for keyboard in D major (BWV.912)
Leif Ove Andsnes (piano)
5:43 AM
Mozart, Wolfgang Amadeus (1756-1791)
Concerto fragment for horn and orchestra in E flat (K.370b)
James Sommerville (horn), CBC Vancouver Orchestra, Mario Bernardi (conductor)
5:56 AM
Kirnberger, Johann Philipp (1721-1783)
Cantata 'An den Flüssen Babylons'
Balthasar-Neumann-Chor, Balthasar-Neumann-Ensemble, Detlef Bratschke (conductor), Johannes Happel (bass)
6:08 AM
Pärt, Arvo (1935-)
Fratres for cello and piano (1977)
Petr Nouzovský (cello), Yukie Ichimura (piano)
6:21 AM
Thomas, John (1826-1913)
Grand Duet for two harps in E flat minor
Myong-ja Kwan, Hyon-son La (harps)
6:36 AM
Dvorák, Antonín (1841-1904)
Serenade in D minor (Op.44)
I Solisti del Vento, Etienne Siebens (conductor).
Last on