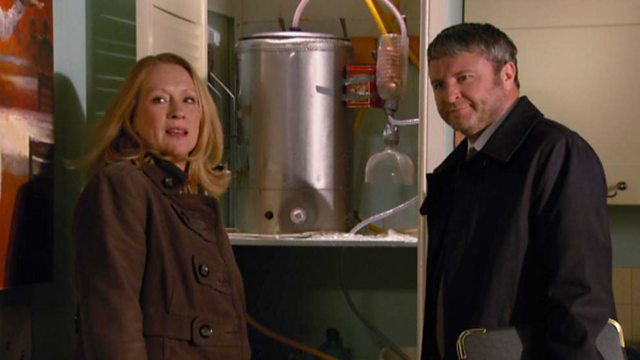 13/11/2012
Despite Eileen's guilt over the bribe, she is confident that Mark Vincent being the new landlord for the O'Haras and Mullens is the right way to go. Not even a letter from Raymond's solicitors disclosing that he has applied for full residency for Stuart blunts her optimism. She simply tells Raymond it would never work and then joins Mark Vincent to convince the somewhat cynical residents that he will modernise their flats. To Eileen and Mark's delight, Molly, Scarlett and Jimmy are won over and thrust their lists for refurbishment at the twosome when they come to check out the flats. However, Scarlett's moonshine explodes, seeping into the floor. All are astounded when Mark Vincent announces this gives him cause to evict them. Eileen pleads with him to reconsider, but Mark is intransigent, revealing to a horrified Eileen that clearing the flats for more desirable tenants who can pay higher market prices was his plan all along. Eileen wants nothing to do with this, but he reminds her fifteen thousand pounds says otherwise. Betrayed, Eileen feels helpless, but Kelly-Marie girds her into action. Eileen challenges Mark that what he's doing is illegal, but he is unfazed. Eileen faces the evictees with the bad news, but promises them she'll find them temporary accommodation. This doesn't prove easy. Her problems are compounded when Raymond, appalled by Eileen's association with Vincent, decides he is going ahead with the writ. In response, Eileen fronts up to Donald, ready to dob in Raymond over Kennedy's murder. But she thinks better of it. Having found out about her visit, Raymond's attack on Eileen is searing, making her feel even worse.
Meantime, Christina learns of the eviction. She is shattered and seeks a listening ear with Alice. Next door, Kelly-Marie is pained to see how much Scarlett is hurting and pulls no punches in telling Eileen she's to blame. When Eileen is forced to tell the evictees they're sleeping in the Community Centre, she is has to walk the gauntlet of their fury and is crushed. She makes a last attempt to sort things by seducing a willing Mark Vincent, only to find the evictions have already begun. The evictees face the real pain of losing their homes and settle uncomfortably into the Centre. Gina, disgusted by her sister's behaviour, shows Eileen the door as she's giving a home to the Mullens instead. Isolated and shunned, Eileen makes a last appeal to Raymond, whose answer is to take Stuart off her for the night. Eileen has no recourse but to go home to Dad, a broken woman.
Stevie finds Stella upset. She reveals her IVF hasn't worked and she doesn't want to worry Bob further. Stevie talks her round and she gives Bob the bad news. She's shaken when Bob seems unmoved by it and then uses the excuse of the evictions to hide behind. Stella puts her own troubles behind her and offers Kelly-Marie and Callum a home. Miriam reminds her she can try IVF again, but Stella still keenly feels her disappointment at not being pregnant.
Miriam lets Raymond know that she is unimpressed at being called as an expert witness in his upcoming case against Eileen. When Murray stands by Raymond, Miriam makes her antipathy towards him plain. However, when she is helping Murray prepare the Community Centre for the evictees, their latent lust for each other overcomes them, and it's a flustered Murray and a flushed Miriam who finally open the door to the evictees.
Last on
Credits
| Role | Contributor |
| --- | --- |
| Eileen Henderson | Deirdre Davis |
| Christina O'Hara | Caitlin Gillespie |
| Scarlett Mullen | Sally Howitt |
| Mark Vincent | Neil McKinven |
| Jimmy Mullen | Billy McElhaney |
| Molly O'Hara | Una McLean |
| Gina Hamilton | Libby McArthur |
| Raymond Henderson | Paul Samson |
| Tatiana O'Hara | Magdalena Kaleta |
| Bob O'Hara | Tom Urie |
| Murray Crozier | Brian Cowan |
| Miriam Stubbs | Kate Rutter |
| Alice Reynolds | Sophie Mercer |
| Bob Adams | Stephen Purdon |
| Kelly-Marie Adams | Carmen Pieraccini |
| Stella Adams | Keira Lucchesi |
| Liz Buchanan | Eileen McCallum |
| Stevie Burns | Paul-James Corrigan |
| DCI Donald | Robin Laing |
| Leyla Brodie | Maryam Hamidi |
| Malcolm Hamilton | Johnny Beattie |
| Producer | Angela Galvin |
| Director | James Henry |
| Writer | Erica Munro |