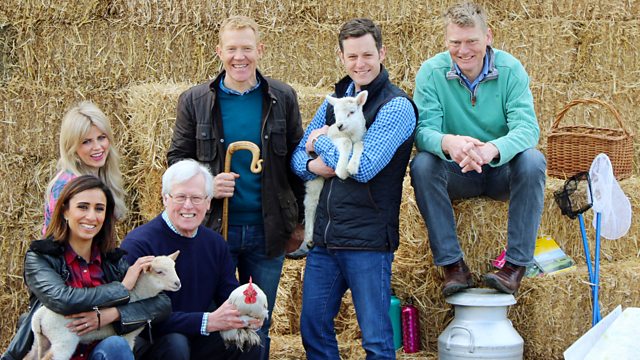 04/11/2012
Countryfile goes down to the woods in West Sussex.
Ellie Harrison spends the day with expert woodsman Ben Law, and looks back at some memorable moments from past programmes exploring our forests, ancient and modern.
Ben first captured our imagination when he appeared on national television building his own woodland retreat. A decade on, Ellie gets to grips with Ben's latest project, eco-caravans, and gets a glimpse of some of the creatures that share his home in Prickly Nut Wood.
The programme also looks back at Julia Bradbury's visit to England's largest, manmade forest, which she discovers is a real haven for wildlife.
Meanwhile, Matt Baker takes on Devon's best in the Blackdown Hills, trying his hand at pleaching, a traditional way of hedging with growing trees.
And John Craven discovers the secrets of the Celtic rain forest deep in the heart of Snowdonia, among other highlights.
Last on
BBC One
Northern Ireland,

Northern Ireland HD

only
Ellie's Day In The Woods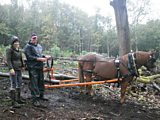 This week, Ellie Harrison helps woodsman Ben Law to harvest his sweet chestnut coppice in West Sussex, whilst she looks back at some of the stories we've done about woodlands on Countryfile. Ellie spends the day with Ben, learning about the management, ecology and uses of his wood. She joins him to fell a tree and then helps to transport it, by horse, down to his workshop with the help of horse loggers Dave and Gaye Botting. Down at the workshop Ben's apprentices are using the coppiced chestnut to build a wooden caravan. Ellie looks at a caravan, built earlier by apprentice Max Lyne, and has a go at powering his lights using cycle power. She also joins moth expert Penny Green to find out what kinds of autumnal moths live in the woods.
Kielder Forest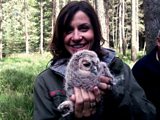 Over the last thirty years the Forestry Commission has been transforming Kielder Forest, one of Europe's largest man-made woodlands, from mainly sitka spruce into a thriving mix of conifer and broadleaf trees. The forest now supports some of Britain's most treasured wildlife and it's a stronghold for the English red squirrel. Julia Bradbury visits the industrial heart of the forest to see how a 150 thousand acre woodland earns its keep. Plus she helps ornithologist Martin Davidson to ring the new population of tawny owl chicks.
Snowdonia's Celtic Rainforest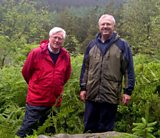 John Craven joins the Woodland Trust at their new 'Celtic rainforest' site – Cwm Mynach. Weatherman David Lee shows him how a mixture of continuous rain and thick tree cover has created uniquely moist conditions under the canopy. Then botanist Ray Woods takes John on a microscopic tour of the special lichens and mosses, which have made their home under the trees. Finally John helps Woodland Trust warden Kylie Jones Mattock remove invasive non-native spruce and pine trees, as part of her efforts to expand the ancient broadleaf woodland.
Woodland Coppicing
Kent is covered with trees and not just of the orchard variety. More than a fifth of the Kent countryside is woodland, harking back to the days when trees were at the centre of a thriving rural industry. Matt Baker gets stuck in with the people who are once again making the trees pay. They are reinvigorating their sweet chestnut coppices and providing renewable fuel for local businesses and schools. He also discovers that a dull axe isn't as useless as it sounds when it comes to the traditional craft of pale-making.
Adam, Pigs and Longhorns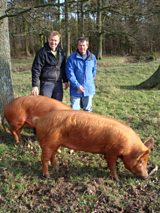 Adam Henson is heading to Golden Valley in Herefordshire to find out about the benefits of farming pigs in the woods. Ray Harris has been keeping Tamworth pigs for over 15 years and keeps them in woodland to clear the undergrowth and help regenerate the land. Later in the programme, Adam visits fellow farmer Russell Bachelor on his farm in Somerset. Russell and his family have recently moved into new areas of business after their dairy herd was struggling to make a profit. Adam is particularly interested in Russell's herd of 80 Longhorn cattle and how they graze and survive in the woodlands.
Woodland Living With Jules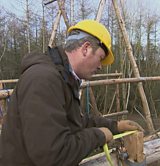 Sherwood Keogh is a 'bodger' who has lived and worked in his Herefordshire wood for 16 years. Jules Hudson goes along to see what life is like living in the woods. He helps Sherwood with the biggest project of his life – building his own wooden house in the centre of the wood.
Matt's Hedge Laying Challenge
The Blackdown Hills are a designated Area of Outstanding Natural Beauty straddling the border between Devon and Somerset. The fields and lanes there are dominated by high hedgerows mounted on banks in the traditional Devon style. Matt Baker joins local hedge layers to learn the tricks of this ancient trade. Helped by George Pidgeon he enters a competition to lay as much hedge as possible in one hour. But there's something suspicious about their challengers.
Credits
| Role | Contributor |
| --- | --- |
| Presenter | Ellie Harrison |
| Presenter | Ellie Harrison |
| Presenter | Julia Bradbury |
| Presenter | Julia Bradbury |
| Presenter | Matt Baker |
| Presenter | Matt Baker |
| Presenter | John Craven |
| Presenter | John Craven |
| Series Producer | Teresa Bogan |
| Series Producer | Teresa Bogan |