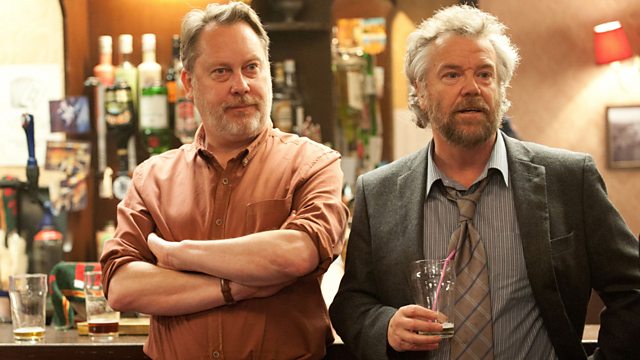 The Geordie answer to Thelma and Louise are on the road; Dot buys Vicky a new car and nearly drives her off a mental cliff.
Sarah attempts to give Jack advice on his interview technique as he tries to find a new job at a newspaper somewhere, anywhere as long as it's not Hebburn, so they can leave the spare room in the family home. Jack is desperate for them to leave but won't compromise in the job market, especially when he bumps into his old boss from the Hebburn Advertiser.
Joe and Pauline would like a little privacy, but at least Sarah is doing her bit around the house; too much for Vicky and Jack's liking - she's making them look bad. Jack needs consoling at Swayze's when the interviews don't quite go according to plan, but Sarah doesn't fancy a drink...
Last on
Credits
| Role | Contributor |
| --- | --- |
| Joe | Jim Moir |
| Pauline | Gina McKee |
| Jack | Chris Ramsey |
| Sarah | Kimberley Nixon |
| Dot | Pat Dunn |
| Vicki | Lisa McGrillis |
| Denise | Victoria Elliot |
| Ramsey | Jason Cook |
| Gervaise | Neil Grainger |
| Big Keith | Steffen Peddie |
| Hutchy | Curtis Appleby |
| Siobhan | Kathryn Hunt |
| Geoff | Bill Fellows |
| Martin | Arthur Bostrom |
| Jim Carter | Ross Adams |
| Puffin Man | Shaun Bell |
| Director | Christine Gernon |
| Producer | Gill Isles |
| Writer | Jason Cook |
Buy online
Buy online
Available on: DVD or Video download
From suppliers including: Amazon Video, BBC Store, iTunes