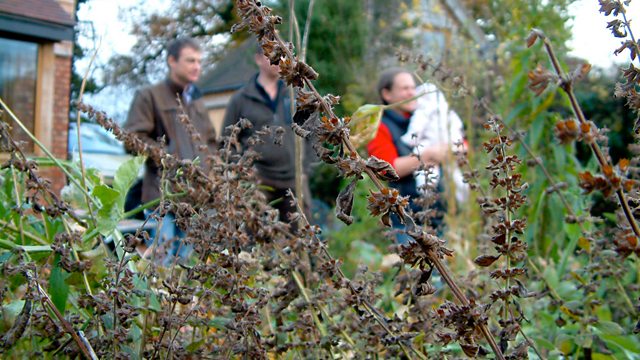 Bishop's Castle, Shropshire
Listen in pop-out player
The GQT team is in Bishops Castle, Shropshire, for this week's programme. Eric Robson is joined by Chris Beardshaw, Pippa Greenwood and Matthew Wilson, plus special guest Nicholas Parsons as Gardeners' Question Time meets Just A Minute in aid of BBC Children in Need.
Produced by Howard Shannon
A Somethin' Else production for BBC Radio 4.
This week's questions:
Q. Would it be possible to keep a tender Jasmine outside over the winter, if it was covered in fleece?
A. It will die if left outside, so it would be better to prune the jasmine down to a suitable size to be brought inside. If you want it to flower next year, you will need to leave some of this year's growth on the plant.
Q. Could the panel advise on growing damsons, plums and apples on our smallholding? It is1250ft above sea level and with strong prevailing winds.
A. Plant other species such as Euonymus, Birch or Willow, which could help create a shelterbelt. In addition, grow on very dwarf rootstocks and grow against the sides of any buildings or sheltered areas. Join your local fruit group, who will have a repository of knowledge of varieties that grow well locally.
Q. What treatment can be used to prevent the gall midge ruining my Hemerocallis lilies?
A. Promptly remove affected buds on a very regular basis.
Q. Can the panel suggest some evergreen plants that will grow to about 3ft (though they can be clipped) and be happy living in pots at 600ft altitude and with a southwesterly aspect?
A. With shelter, you could grow Artemisia Arborescens which has a distinctive smell, as do Helichrysum and Rosemary. Buxus Sempervirens and Buxus Rotundifolia (the cultivar 'Pylewell' is resistant to Box Blight) can be kept low, as can Taxus or other small topiarised Yews. The small-leaved forms of Ilex, such as Ilex Crenata, could be used. Japonicus Aureopictus is also suggested.
Q. Why can I not grow miniature cucumbers in large pots in an unheated greenhouse? The initial crop is prolific, but subsequent baby cucumbers turn yellow.
A. Try not to let temperatures fluctuate too much. Also, a small cucumber will need at least 2 litres of water a day in full growth.
Q. I would like to move my 12-year-old, 3ft tall monkey puzzle tree. Would it be OK to do this?
A. At this size and age there should be no problem, but remember to give it plenty of space, as they will get very big. Move it with as much of a root ball as possible - a foot or so either side of the trunk - and replant and water straight away.
Gardeners' Question Time Meets Just A Minute
For plenty more hesitation, deviation or repetition, you can listen to an extended version of the GQT recording with Nicholas Parsons from Just A Minute, all in aid of BBC Children in Need, on the programme page here: http://www.bbc.co.uk/programmes/b01ntlsf
There are lots of ways to donate to BBC Children in Need, details of which can be found here: http://www.bbc.co.uk/programmes/b008dk4b/features/cin-donate
Ash Dieback Disease
Ash dieback is a serious disease caused by a fungus called Chalara fraxinea. The disease causes leaf loss and crown dieback in affected trees and can lead to tree death. Chalara Fraxinia is considered to be so serious a threat that the government's COBRA emergencies committee met to discuss it.
The Forestry Commission would like the public to help spot affected ash trees and to report them. The Commission's website has useful photos and a video guide on how to spot the symptoms and how to report suspected cases.
You can find this here: www.forestry.gov.uk/chalara
There is also a smart-phone app that has been developed by the University of East Anglia that shows symptoms and allows suspected cases to be reported. More information on this app can be found at: http://ashtag.org/
Affected trees can be reported using the following contacts:
In England and Wales, on the Chalara helpline: 08459 33 55 77 or email: plant.health@forestry.gsi.gov.uk
In Scotland, to Forestry Commission Scotland: 0131 314 6156 or email: fcscotlandenquiries@forestry.gsi.gov.uk
The Forestry Commission are appealing for everyone to think about bio security - in other words the possibility that fungus could be spread on footwear, clothing, gardening tools, even our pets - and, if out and about in gardens, parklands or countryside, to think about the need to clean anything that might have come in contact with the ground or the trees themselves before venturing out again.
Last on
Get involved to help make a difference to children and young people on your doorstep.
Surveying the remains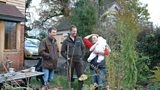 Chris Beardshaw visited listener Emma Morris to advise her on how to redesign what remains of her garden after having an extension built on the house.
Difficult corners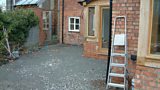 Chris advises on what can be done with the corners created by the new extension which provide generous growing space, but poor quality soil after the building.
A new lease of life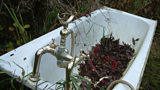 There's still hope for those household item which may be removed during a building project. Following Bob's advice, this bath can find a new lease of life as a place to grow blueberries!
Five gardening tips from Henry VIII