See pictures from listeners with their radios to mark the BBC's 90th birthday.
Add music you love and enjoy it with
Level 42

Running In The Family

Heaven (Various Artists), Spectrum

The Hollies

He Ain't Heavy, He's My Brother

The Hollies, EMI, 4

(CD Single), Warner Music UK, 1

Neil Diamond

Brother Love's Travelling Salvation Show

Neil Diamond - The Ultimate Collectio, Columbia/Mca

Donald Fagen

I'm Not The Same Without You

Sunken Condos, Warner Bros, 1

The Very Best Of Dexy's Midnight Runn, Mercury

Free

My Brother Jake

Music Of The Year 1971, Spectrum, 9

Jeff Wayne's Musical Version Of War Of The Worlds, Sony

The Faces

Cindy Incidentally

(CD Single), Warner Bros

Very Best Of Ben E.King & The Drifters, Global Television
Confession: For Whom the Bell Tolls

Dear Father Simon and the collective,

My confession relates to events from many years ago, when I studied at the venerable institution of Cambridge University.

Having come from a pretty rough state school, the world of college punts, twisted spires and Latin recitals was a very different one from my school days, and at first seemed a little intimidating. However, university also provided an excellent opportunity to meet new people and drink new drinks, and soon I embraced my posh new surroundings. In particular, I became a big fan of attending "formal hall", where one could dine on a three-course meal for only £2.88, which - when combined with a cheap bottle of wine (or two for special occasions) - always proved a fine start to a night's entertainment.

One evening, I donned my poncy college gown, and set off to formal hall – tonight was a two-bottle night for some reason that I can't remember. The college's hall was set at the base of its imposing tower, and its high stone walls had huge portraits of famous luminaries from centuries past hung between the stained glass windows.

After a few glasses of cheap plonk, something caught my eye. Amongst the wood panelling on the lower parts of the walls, there was a small handle on one section – a Secret Panel!

After a few more glasses (for dutch courage), I excused myself, and – whilst supposedly on the way to the toilets – approached the panel. Very cautiously, I grasped the handle, and pulled it back to reveal what lay beneath. Behind the Secret Panel there was what I can only describe as a Secret Button! I closed the panel and returned to my seat, to report to my friends what had happened. The message they replied with was clear: I should drink some more wine, return to the Secret Panel, and press the Secret Button.

Several glasses later I was back, and once again I nervously opened the secret panel. With a trembling finger, I reached in, held my breath, and pressed the secret button…nothing happened. Rather disappointed, I closed the panel and returned to my seat. Despite the anticlimax, speculation mounted about what the button may have actually done. Perhaps it had set off an alarm in the kitchens summoning a servant? Perhaps it had activated a dumb waiter fetching more port from the cellars?
Perhaps it had opened a sluice gate on the River Cam somewhere, flooding some poor unsuspecting village owned by the college (as I understand happened sometimes)?

More wine flowed, and over the next few hours, each of my friends made covert trips to press the Secret Button, something which somehow remained exciting in our drunken state, despite the fact that - in practice - I think we all assumed that the button did nothing. We assumed it was a leftover relic from a day when it performed some crucial function, probably summoning a servant or something. These days, we assumed, it was just a small button left in a wall which did nothing.

We were wrong.

The next day, just after midday, I awoke and staggered out of my room with a painful head, in search of food. On my way out, I was greeted by my neighbour, a nerdy-looking type, who also looked rather tired.

"Are you OK?" I asked him, wondering if he had had a similar night to mine.
"Not really," he replied, "I had an exam this morning, but did terribly badly."
"How come?" I asked – he didn't look the type to do "terribly badly" in an exam.
"I was so tired I could barely think," he replied, and went on to explain that he'd gone for an early night, but hadn't been able to sleep until the early hours of the morning, as for some inexplicable reason the college bells had been ringing on and off for several hours late into the night.

My heart fell as realisation dawned. The mysterious Secret Button had been starting and stopping the tolling of the huge college bells high above us at the top of the college tower. The college hall had extremely thick stone walls, and so within its confines we had been unable to hear them. The rest of the college on the other hand - along with much of the surrounding neighbourhood - had been extremely able to hear them, for quite a long time as it turned out...each peel lasted at least 30 seconds. We must have pressed that button a dozen times at least.

So I ask forgiveness not from the college, who are rich enough to look after themselves, but rather from my neighbour, who probably flunked his exam and didn't get the degree he wanted, perhaps resulting in him falling into a life of crime rather than one of accountancy, or something equally inoffensive.

I also beseech any listeners who are currently attending the unnamed college in this story NOT to check for secret panels in the walls of the college hall, and certainly NOT to press any secret button they may find hidden beneath, lest they be forced to plead for forgiveness as I do now.

Dan
Watch Simon's Edinburgh Book Club Special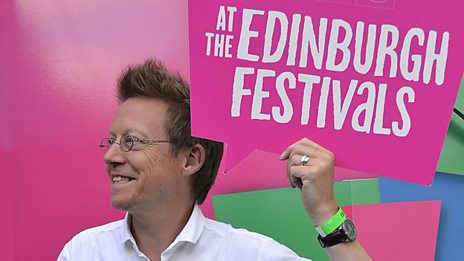 See Simon host a special Radio 2 Book Club live at Potterrow.
Podcasts
Simon Mayo considers listeners' darkest secrets and worst misdemeanours, as they beg for his…

The best bits of Simon Mayo Drivetime on BBC Radio 2, with star guests, audience interactivity,…