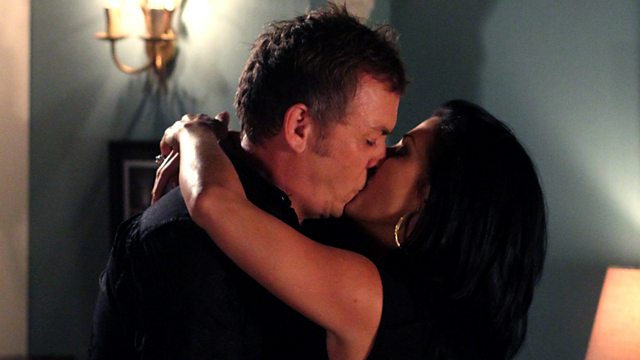 09/11/2012
Max, Jack and Derek arrive at the Vic for their poker game and find Alfie preparing for his mystery date with Kat. Alfie lets them use the kitchen and they quiz him about the pawnbroker's ticket pinned to the noticeboard. Kim ropes Alfie into going to the B&B to look at the electrics. When he arrives, Kat's waiting at a table set for a romantic dinner for two; Kim's giving them a free meal, with Ray cooking, if they spread the word about how great the B&B is. Over dinner Alfie tells Kat the Branning brothers know she pawned her mother's ring. Denise shows Kim an unfavourable newspaper article about the B&B. Kim hasn't told Kat everything about her run in with Environmental Health and begs Ray not to tell Alfie and Kat the truth. The meal's a success - until Alfie spots a mouse. Back at the Vic Alfie thanks Kat, it's been a perfect night. Kat finds an envelope pinned to the kitchen noticeboard with her mother's ring inside.
Despite Roxy's reservations Lucy persuades Christian to go and see Syed. Syed and Christian talk honestly. Syed admits he was too proud to say it, but loves Christian. Next door, Zainab explains to Masood that Jamila advised her to submit to him. Masood starts acting masterfully and they're about to kiss when the doorbell goes. It's an irate Christian; Syed's told him about Yasmin. Christian tells them he gives up and returns to the Beales' in a foul mood.
Discovering Michael's babysitting Tommy, Roxy turns up on his doorstep with Amy and a bottle of wine. Michael teases Roxy about being in love with Alfie. Roxy's not relishing the thought of going home to Fatboy and Michael suggests she and Amy stay with him - permanently.
Last on
Credits
| Role | Contributor |
| --- | --- |
| Kat Moon | Jessie Wallace |
| Alfie Moon | Shane Richie |
| Michael Moon | Steve John Shepherd |
| Roxy Mitchell | Rita Simons |
| Christian Clarke | John Partridge |
| Syed Masood | Marc Elliott |
| Zainab Khan | Nina Wadia |
| Masood Ahmed | Nitin Ganatra |
| Kim Fox | Tameka Empson |
| Denise Fox | Diane Parish |
| Lucy Beale | Hetti Bywater |
| Derek Branning | Jamie Foreman |
| Jack Branning | Scott Maslen |
| Max Branning | Jake Wood |
| Ray Dixon | Chucky Venn |
| Tracey | Jane Slaughter |
| Executive Producer | Lorraine Newman |
| Executive Producer | Lorraine Newman |
| Director | John Howlett |
| Director | John Howlett |
| Writer | Christopher Reason |
| Writer | Christopher Reason |