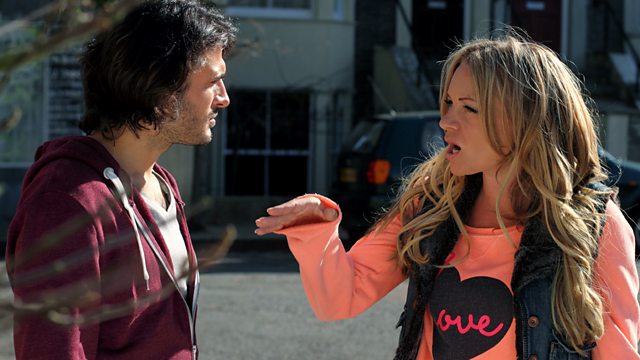 06/11/2012
Lola and Billy attempt to make Phil's house more welcoming with flowers and baking bread. Leaving a disgruntled Jack at home, Sharon arrives for the meeting wearing her engagement ring. Phil reveals they're now applying to foster Lexi. Fostering Assessment Social Worker, Rick, arrives. He questions them about Lola, and asks Sharon about Dennis's murder and her attitude towards Ben. Sharon defends Phil and when Rick asks Phil to speak he flees to the kitchen. Phil's sure Rick's already made his mind up and starts to doubt his own parenting abilities. Sharon talks him round and the interview resumes. Sharon asks Rick if he was expecting to meet perfect parents - they aren't that but would go to the ends of the Earth for their kids. Phil finally speaks and the 'couple' affectionately start teasing one another. Later, in the Vic, Lola's anxious to know how the meeting went. Discovering Jack knows Rick, Sharon persuades him to have a word. Jack's not happy when Rick says Sharon and Phil seem well suited.
Syed fears Christian's left Walford until Roxy admits he's at the Beales'. Later, Syed leaves Christian a message, he's been doing a lot of thinking. Amira arrives unexpectedly; she tells Syed she's getting married again and wants Yasmin to live with her in Birmingham.
Zainab's awkward around Masood. Zainab instructs Syed to fight for Christian, he accuses her of interfering. Zainab's surprised to discover Tamwar's taken her Minute Mart shifts and altered the displays, he reminds her things have changed. Worried the family hate her, Zainab makes a pact; no more meddling, interfering, secrets, nagging, judging, complaining or taking sides. Masood, Tamwar and AJ are amused.
After Lucy mentions an unexpected Environmental Health visit, Ian sees Kim leaving the B&B laden with bin bags full of out of date food.
Last on
Credits
| Role | Contributor |
| --- | --- |
| Jack Branning | Scott Maslen |
| Sharon Rickman | Letitia Dean |
| Phil Mitchell | Steve McFadden |
| Billy Mitchell | Perry Fenwick |
| Lola Pearce | Danielle Harold |
| Jay Mitchell | Jamie Borthwick |
| Roxy Mitchell | Rita Simons |
| Syed Masood | Marc Elliott |
| Zainab Khan | Nina Wadia |
| Tamwar Masood | Himesh Patel |
| Masood Ahmed | Nitin Ganatra |
| Denise Fox | Diane Parish |
| Kim Fox | Tameka Empson |
| Ian Beale | Adam Woodyatt |
| Lucy Beale | Hetti Bywater |
| Kat Moon | Jessie Wallace |
| Amira Masood | Preeya Kalidas |
| Rick Gekowski | Laurence Saunders |
| Executive Producer | Lorraine Newman |
| Director | John Howlett |
| Writer | Rob Gittins |