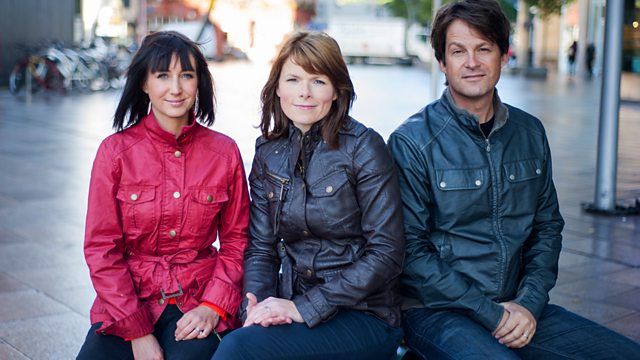 When Pontarddulais couple Terry and Ann Lewis got a knock on the door from a doorstep trader they thought their luck was in. The tarmacers were offering just what the couple needed - a new driveway at a bargain price. But as the cost soared, the couple realised they wouldn't get the driveway they'd paid for.
A year ago X-Ray highlighted the problems caused by a landslip for the residents of Clos-y-Fferm in Aberporth. Several homes were damaged structurally. But twelve months later house-owners Rob and Dods Arnold are still waiting for the problem to be sorted, and other residents can't sell their homes, even though they're undamaged.
Kathryn Lawday from Dinas Powys relies on her mobile more than most. Her sister has a life threatening condition and needs to call on her help. Kathryn's contract is with Vodafone, but for months she's been struggling with a poor signal. Lucy gets on the case to see if she can sort things out.
Last on
Defective driveway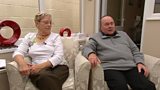 A Pontarddulais couple have been left thousands of pounds out of pocket, after agreeing to have their driveway re-tarmacked by a doorstep trader.
Terry and Anne Lewis got a knock on the door from Bellway Paving. They came at a great time as the couple wanted their driveway re-laid so that Terry, who is disabled, could get the car closer to the front door.
Terry told X-Ray's Lucy Owen, "They seemed nice. You know they did have paperwork. They seemed genuine enough."
Bellway Paving initially quoted them £1,000 to do the whole driveway, but after a bit of haggling Terry agreed to pay £700. The couple signed a waiver and work started within a couple of days.
But just hours into the job the workers downed tools. Terry was told that they needed to buy a protective plastic membrane to put under the tarmac. They claimed it would protect the driveway from water and stop the tarmac crumbling. But they said it would cost an extra £2,100, and said they needed the cash straight away.
The couple were suspicious, but as most of their driveway had already been torn up they felt pressurised. Terry went down to the bank to withdraw the cash and handed over the money. It was only then that Bellway Paving continued with their work.
Five days later the driveway was finished, but the couple weren't impressed with the result.
Anne told us, "It's not level, it's not smooth, it's rough. Everything sticks to it." And as soon as Terry tried to put the car on, it began sinking. There are now tyre marks dotted all over the driveway.
X-Ray asked chartered surveyor Robert Fisher to take a look at the driveway. He found that the tarmac, which should be at least four-inches thick, was only two-inches thick. And that the hardcore placed underneath the tarmac hadn't been compacted properly. Both of which mean the driveway wasn't strong enough to support a vehicle. "Unfortunately the driveway's going to carry on getting softer. Really they need to cut it all out and re-lay it, " Robert said. 
But when we asked him to inspect the plastic membrane Terry and Anne had been charged £2,100 for we were in for a shock. It was actually heavy gauge damp proof membrane costing around £50 a roll. Robert told us, "It's very sad I'm afraid. They have paid an awful lot of money for a product that's very cheap."
Terry and Anne tried to contact Bellway Paving, but the owner Tom Connors was on holiday and they've had no success contacting them since.
Terry said: "It'll take a long time now to get over it. The drive we did have was solid."
X-Ray has attempted to contact Bellway Paving but we have had no response to our letter. We have also tried telephoning the numbers on their paperwork but the lines aren't working.
Andrew Bertie, from Trading Standards anti-fraud unit Scambusters, said they have received a number of complaints about Bellway Paving and are keen to speak to Tom Connors.
Andrew said: "These companies come round the doors saying they've got materials left over from a previous job. They'll do it cheaply and they always ask for cash to try and avoid being traced.

"My advice in a nutshell is this – if the contract is over £35, you've got a seven-day cooling off period. Take advantage of that seven days – think clearly about what you're getting yourself into, because once in, it's very difficult to get out of it."
Blighted home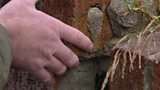 It's hard enough to sell your house at the moment without having to worry about what's happening next door.

Clos-y-Fferm in Aberporth is well known to X-Ray after we visited last year.

The cul-de-sac was built by Rheidol Developments of Aberystwyth between 2004 and 2006.  But, after a landslide, seven of the properties were affected by shocking cracks and two of them now stand boarded up and deserted.

Now another resident, Hannah Jones, has been in contact with us after finding out her home was worth just half of its original valuation, and she doesn't have a crack in sight.

Hannah was trying to sell after finding out that promotion at the bank she worked at meant moving to another area.  Hannah bought off plan in 2006 and was delighted with her dream house. She told X-Ray's Rachel, "Aberporth is just such a lovely village. It was hot off the press, we literally rushed out to see it and we went and put the offer in the next day".

And so far Hannah's had no structural problems at all, "No it's great, it's a lovely little property, a great starter home" she said.

But the estate agent who Hannah spoke to told her she would have to sell for about 50 to 70 per cent of the market value and that it would need to be to a cash buyer. She told X-Ray she was devastated.

We asked chartered building surveyor Kevin Thomas why. He said, "Any surveyor coming along to look at a property for sale or even if someone applies for a re-mortgage will be obliged to take into account the condition of the adjoining properties. That is blight by association".

Hannah put it into words for us, "The area opposite the property is just derelict and overgrown with these big barriers there, and dotted around are properties which are just boarded up and it looks like an abandoned estate really".

We wrote to the builder of the estate Ian Jones who has told us his works to stabilise the site have been successful. And he says that a full investigation will produce a report as security for future surveyors, buyers and insurers. He also says the boarded up properties will be demolished in the near future and Rheidol Developments are doing everything they can to restore the site's reputation.

Last year we also featured the story of Rob and Dods Arnold whose garage had developed cracks just months after they bought their bungalow on Clos-y-Fferm in 2007. Last year we wrote to their buildings insurers Zurich who said they were still monitoring movement in the ground. Rob told X-Ray, "We bought it in good faith thinking it would be a good investment nice position to have a property and it's just been a complete disaster."

But we've had some great news as Zurich has told us they've agreed a settlement of their claim and the couple will be refunded the current market value of their property as if it were undamaged.
Rusty campervan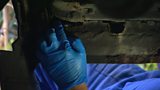 If you were buying a campervan from a mechanic, you'd probably feel more reassured about what you were buying. 

Ellie and David Morris from Cardiff thought the same when they bought a 1997 transit van from a man called Graham Moore, who owned GMS Autocentre in Prestatyn.

The newlyweds are keen camping enthusiasts but after they were involved in a terrible car crash in 2009 it became too painful for them to lug around heavy tents and sleep on the hard ground. So they decided to put their wedding money towards something a little more comfortable.

David told X-Ray, "Ellie joked and said maybe we should get a campervan or something and I thought that was an excellent idea".

Ellie started the hunt on eBay and one van in particular caught her eye.  It was being sold privately by Graham Moore, through the online auction site.  David and Ellie discovered that Mr Moore owned a garage.  They told us: "You think we'd much prefer to buy from a mechanic who knows his own engine, MOT'd it himself in his own garage, was what he told us, just seemed really good".

Ellie and David offered Mr Moore £3,500 after the van didn't reach its reserve on eBay but their wedding money didn't quite stretch so they took out a building society loan of £2,000 to cover the shortfall.

Then they took the four-hour train ride to Prestatyn in September last year to pick it up and with Mr Moore's MOT in their hands and a successful test drive completed, they handed over their cash.

After a couple of trips in the van over the winter they took it for its next MOT – six months after buying the van from Mr Moore. But they were in for a shock - the van failed and was declared unroadworthy. David told X-Ray, "We got this MOT back and the certificate was two pages long".

They were really confused and took the van to two other garages to get it checked over but David said they told him wouldn't even touch it. It was gutting for the couple, "We weren't allowed to drive it, the only place I could drive it was to places to have it checked out" said David.

So we asked expert vehicle examiner Gareth Rees to take a look over the van. He said, "It's totally beyond repair, it's what we call the proverbial rust bucket.
"The amount of corrosion on here is consistent with having happened over a number of two to three years. It's shocking. And it not only puts the user of the vehicle in danger but other road users".

And X-Ray has had a look into the van's history as well - corrosion has been reported on its annual MOT certificate every single year since 2006. But then in 2011 it passed first time, with no mention of rust at all on the MOT.

Ellie and David wrote to Mr Moore but he responded saying, "there was no problem with it and out checked out clear in his MOT" said David.

But since X-Ray got involved Mr Moore has agreed to refund the couple in full and pick up the van. He told us that if the van was described as being in an excellent condition at the time of sale then this was an innocent mistake. He says the transaction was a private sale not connected to his business at the time and he doesn't remember making any assertions about his qualifications or the vehicle's condition when he sold it to Ellie and David.
He denies categorically any allegation made that the vehicle should not have been issued with an MOT from his garage, and denies that the van was in an unroadworthy state when this was issued.

On the Case - Vodafone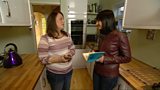 Kathryn Lawday from Dinas Powys relies on her mobile phone to keep in touch with her sister who is poorly, but for the last few months she's had major problems getting a signal at home.

Kathryn's been a loyal Vodafone customer for years, but she started having reception problems in April when she took out a new contract. The signal is so weak at home that Kathryn has to go for a walk if she wants to receive texts or calls. For most of us that would be annoying, but for Kathryn it's a lot more important.

"I have a sister that has a condition that can be life threatening," she said. "And I have to be there to help and take her to hospital or anything like that. So I need my mobile signal to get in contact with her."

The annoying lack of signal became a serious problem when Kathryn's sister couldn't get in touch with her recently.

"She sent me a message to say her condition was flaring up and that she might need to go to hospital," added Kathryn. "I was at home at the time and didn't have the message until two hours later."

Kathryn first complained to Vodafone in May. They told her the poor reception was due to a fault with the local mobile phone mast.  Vodafone has repeatedly told her the mast is being fixed, but Kathryn still can't get a signal at home.

"I didn't think this is how they'd treat me," she said. "No one wants to help, no one wants to listen. It's just a case of that's the problem, off you go."

Lucy got On The Case for Kathryn and found Vodafone had an interesting explanation for her problems.

They said overgrown trees are blocking the local mast and therefore the signal to Kathryn's phone.

Cutting them would seem to be the answer but Vodafone say they don't own the land the trees are on, so they can't take action.

They say they're working on a solution, and in the meantime Vodafone offered Kathryn a special signal device, completely free-of-charge, that will boost reception in her home.
Credits
| Role | Contributor |
| --- | --- |
| Presenter | Lucy Owen |
| Presenter | Rhodri Owen |
| Reporter | Rachel Treadaway-Williams |
| Series Producer | Nick Skinner |