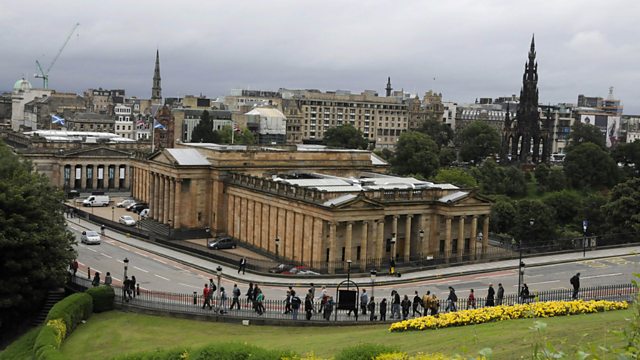 A' comharrachadh gu bheil an sgrìobhaiche Tormod Caimbeul air ceann-là mòr a chuir seachad, tha e fhèin agus Maureen Nicleòid a-nis a' cur cuairt air baile Dhun Èidinn, far na chuir e seachad ùine ag obair agus ag ionnsachadh sna 60an.
Cha robh a chiad làithean san oilthigh cho buileach furasta do Thormod ach aon uair 's gun chuir e cùl ri eachdraidh Bhreatainn agus aghaidh ris a' Ghàidhlig dh'atharraich sin. Cluinnidh sinn mun eòlas a bh'aige air an òraidiche agus an t-sàr sheinneadair, Uilleam MacMhathainn agus cuideachd mun taic a fhuair e bho sgrìobhaiche eile, Iain Moireach, agus a bhean Nora, a bha iad fhèin a' tàmh an Dun Èideann aig an àm.
Gheibh sinn blasad den nobhail Shrapnel a sgrìobh Tormod, agus a stèidhich e an Dun Èideann, agus e fhèin agus Maureen nan suidhe aig Arthur's Seat.
This is a series of 8 programmes celebrating the Gaelic writer Norman Campbell ( Tormod a' Bhocsair ) 's 70th birthday . Here Norman and Maureen Macleod continue their programmes recorded on location in Edinburgh recalling Norman's time there in the 60s.
They begin at the Old Quad in Edinburgh University recalling his struggle with British History and some of his lecturers. He then describes how he got to know Willie Matheson, his Gaelic lecturer and a singer of repute whom he recorded on his tape-recorder.
He recalls too how the writer John Murray and his wife looked after him when he went to Edinburgh. It was through John's perseverance - and a typewriter his wife Nora acquired - that Norman began writing. He was also very encouraged by Derek Thomson prublishing his poetry in the Gaelic periodical, Gairm.
They then move to Arthur's Seat where Norman staged part of his novel Shrapnel. They discuss the book and Norman reads an excerpt from it.
Last on